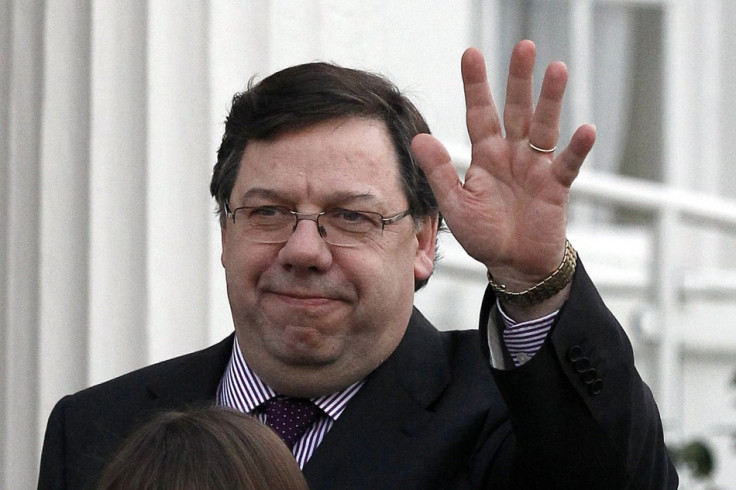 At 06.27 on Tuesday, 01 March 2011, RTÉ, Ireland's national broadcaster, reported: "So that's it, 161 of 166 seats have been filled in the Thirty-first Dáil, with the final five TDs (MPs) of Galway West deemed elected, but not yet confirmed.
"With only 17 votes separating Connolly from Kyne, she was always going to ask for a recount - it's set for 4pm today."
Shortly before at 06.06 on 01 March, Fine Gael's Seán Kyne and Independent Noel Grealish had been deemed elected on the 13th Count with Mr Kyne's total reaching 9,117.
RTÉ summarised another couple of late results from earlier that morning including Wicklow: "Three Fine Gael TDs, one Labour TD and one Independent were declared elected after 19 counts...Andrew Doyle of Fine Gael was the first candidate to secure a seat on the 16th Count..."
Wicklow elected no Fianna Fáil MP.
Former Prime Minister, Brian Cowen's Laois-Offaly seat declared around 01.30 on Tuesday, 01 March. The seat elects five members and the Quota was set at 12,360. Charles Flanagan of Fine Gael won the largest number of First Preference votes - 10,427 (14.1 per cent) - but only surpassed the Quota on Count 8 to become the first to be elected. The other four seats were decided on Count 13.
Winning the second seat in the Laois-Offaly constituency is Marcella Corcoran Kennedy who was fifth equal in the First Preference votes cast with 7.8 per cent and 5,817 votes. When Mr Flanagan was declared the winner of the first constituency seat with 13,515 votes on Count 8, Mrs Corcoran Kennedy was still languishing in fifth place with 6,595 votes. The lady was in second place by Count 11 but had still failed to reach the Quota and only exceeded it on the last, 13th Count when her final vote had reached 13,515.
Could this be the same constituency as in 2007?? In 2007, Brian Cowen, then Minister of Finance, polled on the First Count 19,106 and exceeded the Quota by 7,186 votes. Fianna Fáil's share of the First Preference votes was a whopping 56.4 per cent. Ah! Those were the days.
Fianna Fáil's best performer this time is Barry Cowen, younger brother of the ex-PM who got 11.1 per cent of First Preference votes and came third, and sitting TD, Seán Fleming with 8.1 per cent and got the last, fifth place. Former sitting Fianna Fáil TD, John Moloney, the Minister of State for Disability and Mental Health in the previous administration, fell on Count 11. Their combined Fianna Fáil, First Preference vote totalled 26.8 per cent.
Brian Stanley of Sinn Féin was elected the fourth member for Laois-Offaly with 10.8 per cent of First Preference votes. Only Mr Flanagan and Mrs Corcoran Kennedy passed the Quota mark, the others being elected without reaching the Quota.
Both Wicklow and Laois-Offaly illustrate what a mountain to climb the former governing party, Fianna Fáil has to win back the confidence of the electorate once more. In the Dublin suburban seat of Dún Laoghaire, Fianna Fáil's First Preference votes fell by a swing change of 19.6 per cent. Nationally, the Party did even worse with a swing change fall of 24.1 per cent.
In Wicklow which lies just south of Dublin and includes the large commuting suburb of Bray with more than 30,000 people, the swing change against Fianna Fáil was 27.5 per cent. Only 10.6 per cent of Wicklow's electorate gave Fianna Fáil their First Preference vote, just ahead of Sinn Féin's 10.1 per cent and a fraction over a quarter of Fine Gael's 39.6 per cent. Former Minister of State for Europe, Dick Roche could only manage eighth place with 5.5 per cent (3,891) of the vote and lasted until Count 13 (of 19).
It was really bad news for Fianna Fáil in Laois-Offaly too, where the swing vote against the Party was 29.6 per cent, despite returning two TDs
Fianna Fáil really lost badly throughout the Dublin urban area, not just to Fine Gael, but to the parties of the Left, particularly Labour, where in Dublin North West, Labour's share of First Preference votes reached 43.2 per cent. Throughout this region which contains approximately one third of Ireland's population, Fianna Fáil was getting less than 20 per cent of such votes. In Dublin North West the swing against the Party was 37.1 per cent giving it only 11.8 per cent of First Preference. In constituencies nearby, 10 per cent or so. Accuracy at such levels is of no consequence, the Party has no chance.
A bad General Election for Fianna Fáil must really have been driven home when the result for Donegal South West was confirmed. Here, Pearse Doherty of Sinn Féin stormed to victory with 33 per cent of First Preference votes, retaining the seat he had won in the November 2010 by-election.
This could only have been a nightmare result for Fianna Fáil which had, with very few exceptions, returned two of the three members for this seat since 1937. Sitting TD for the past 24 years, Mary Coughlan, a former high ranking "Cabinet" member in the previous administration, failed to meet the cut this time.
Well Galway West had its recount because of 17 votes separating two candidates for the last place. On 02 March, 2011, Mr Seán Kyne was duly elected. As RTÉ expressed it, he "savoured victory shortly after 8am this morning. It took 66 hours of counting over four days to confirm his election." There had been a previous re-count.
RTÉ could finally report: "The conclusion of the count means that representation in the 31st Dáil will be: Fine Gael 76 seats; Labour 37; Fianna Fáil 20; Independents 15; Sinn Féin 14; Green Party 0; and Others 4.
There's a lot to be said for First-Past-The-Post!