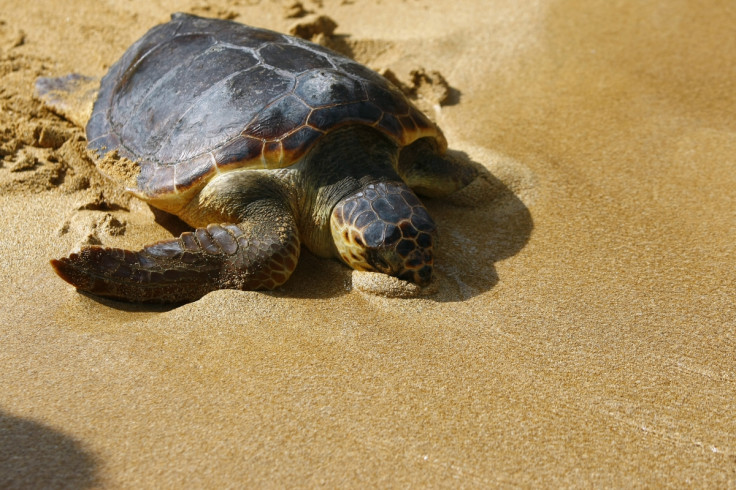 Terri, an endangered turtle, was flown back home to the Canary Islands on a private jet owned by Iron Maiden frontman Bruce Dickinson. The loggerhead turtle washed up on a beach on the island of Jersey, off the coast of France, in January with shell damage and infections.
She was treated by vets at the New Era Veterinary Hospital who posted on Facebook asking for help with her medical care. "She sadly has a poor prognosis and a fair few have washed up in the UK over the last month and sadly most are too ill. We are going to do everything to try though and we have given fluids and antibiotics already," it read.
Once Terri recovered enough, the hospital decided to return her home so she could heal completely. They turned to social media to gather funds for the trip and managed to raise £7,500 ($10,824) for travel expenses and medical care.
The hospital estimated the total cost to come up to £22,000 but following their social media campaign, Aeris Aviation offered to provide them with the Iron Maiden jet.
"A jet has become available at a far reduced price and with the donations at the hospital and online we have reached the price we need for the jet," vet Peter Howarth told BBC. It shows how much one little turtle can bond people together. We had interest immediately from Dubai, Australia and America. The sea life trust in the UK offered money if we need it, which we hope to put towards a satellite tracker so people can follow Terri on her journey," he added.
Terri was flown to Gran Canaria on 29 January where she continued to undergo treatment. According to an update on the New Era Facebook page, she is still not keen to eat on her own and is being administered fluids. X rays were conducted to check if she had ingested something that was making her ill.