To celebrate the 10th anniversary of the Marvel Cinematic Universe (MCU), Marvel Studios has assembled more than 80 of the actors and filmmakers who have worked on the 18 films to date, and some of those yet to come.
Robert Downey Jr, Chris Evans, Tom Holland, Scarlett Johansson, Chris Pratt, Elizabeth Olsen, Chadwick Boseman, Mark Ruffalo, Zoe Saldana, Benedict Cumberbatch, Anthony Mackie, Gwyneth Paltrow and Paul Rudd are just some of the stars on show.
They were joined by Marvel legend Stan Lee, studio president Kevin Feige and the two directors responsible for the films that set up and established the MCU: Jon Favreau and Joss Whedon.
Favreau and Whedon directed the first two Iron Man and Avengers films respectively. Downey, who led those films as Tony Stark / Iron Man, is front and centre of the photograph with Feige and Lee.
The picture was released online with a behind-the-scenes video offering a glimpse of events on 7 October 2017, the day of the shoot, with some of the stars offering their thoughts and footage of Feige addressing the assembled stars.
"It felt like being at the Academy Awards or something. Every person had been in one or all of my favourite films," said Hemsworth, who plays Thor.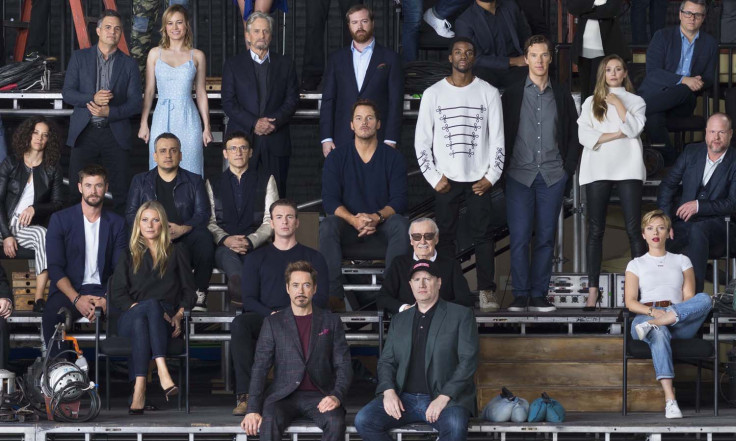 The video marks the start of a year of celebrations that will include "exclusive consumer products and collectibles, along with in-theatre events and much more in the coming months".
On the day of the shoot, Ruffalo shared a brief Facebook Live video from it featuring Evangeline Lilly, Johansson, Evans, Downey and Paul Bettany.
Hayley Atwell, Samuel L Jackson and Karen Gillan also shared photos from the shoot.
Check out the photo and the full cast list: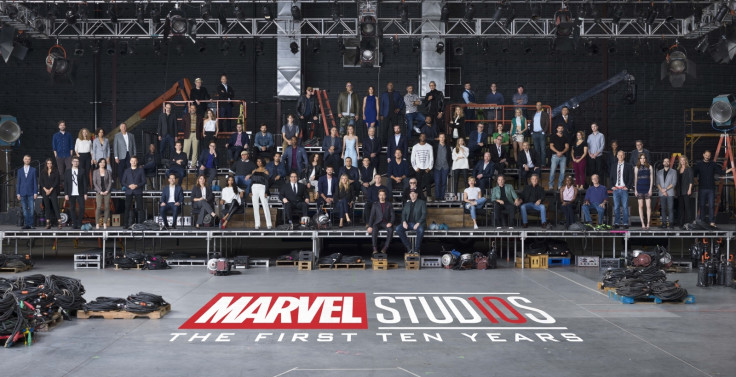 Marvel Studios "The First Ten Years" Class Photo

Front Row L to R: Sean Gunn (Kraglin), Hannah John-Kamen (Ghost), Director Scott Derrickson, Executive Producer Trinh Tran, Jeremy Renner (Hawkeye), Paul Rudd (Ant-Man), EVP, Physical Production Victoria Alonso, Zoe Saldana (Gamora), Angela Bassett (Ramonda), Director/Actor Jon Favreau (Happy Hogan), Chris Hemsworth (Thor), Gwyneth Paltrow (Pepper Potts), Chris Evans (Captain America), Robert Downey Jr. (Iron Man), Executive Producer/Writer Stan Lee, President of Marvel Studios Kevin Feige, Scarlett Johansson (Black Widow), Co-President of Marvel Studios Louis D'Esposito, Kurt Russell (Ego), Danai Gurira (Okoye), William Hurt (Thaddeus Ross), Director Alan Taylor, Karen Gillan (Nebula), Executive Producer Brad Winderbaum, Emily VanCamp (Sharon Carter), Director Louis Letterier
Second Row L to R: Director Jon Watts, Casting Director Sarah Finn, Tessa Thompson (Valkyrie), VP, Physical Production David Grant, Don Cheadle (War Machine), Tom Holland (Spider-Man), Director James Gunn, Dave Bautista (Drax), Michael Peña (Luis), Anthony Mackie (Falcon), Evangeline Lilly (Wasp), Director Joe Russo, Director Anthony Russo, Chris Pratt (Star-Lord), Chadwick Boseman (Black Panther), Benedict Cumberbatch (Doctor Strange), Elizabeth Olsen (Scarlet Witch), Director Joss Whedon, Paul Bettany (Vision), VP, Physical Production Mitchell Bell, Frank Grillo (Crossbones), Director Anna Boden, Director Ryan Fleck, Letitia Wright (Shuri), Editor Jeffrey Ford
Third Row L to R: Director Peyton Reed, Laurence Fishburne (Dr. Bill Foster), Linda Cardellini (Laura Barton), Executive Producer Jonathan Schwartz, Sebastian Stan (Winter Soldier), Ty Simpkins (Harley Keener), Mark Ruffalo (Hulk), Brie Larson (Captain Marvel), Michael Douglas (Hank Pym), Executive Producer Stephen Broussard, Director Ryan Coogler, Michelle Pfeiffer (Janet van Dyne), Executive Producer Jeremy Latcham, Hayley Atwell (Peggy Carter), Pom Klementieff (Mantis),