No, that's not Captain Marvel in the Avengers: Infinity War Super Bowl trailer
Sorry Marvel fans.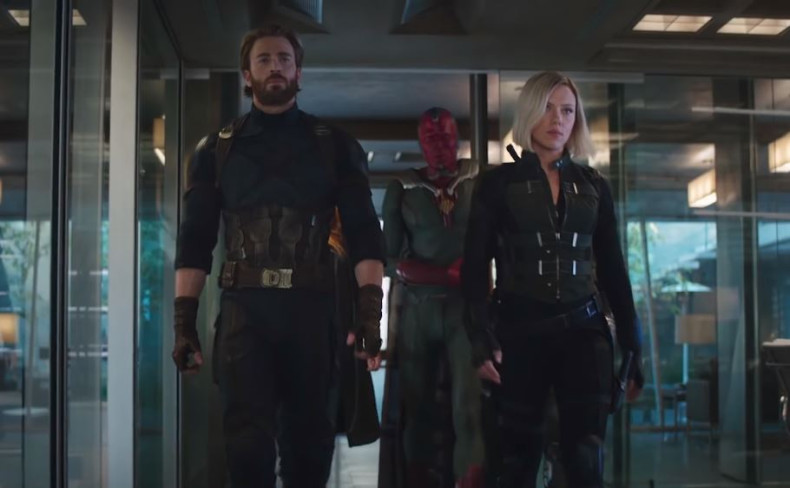 Will Brie Larson appear as Carol Danvers / Captain Marvel in Avengers: Infinity War later this year? She may well do, but fans who believed they spotted evidence of such a cameo in the Super Bowl TV spot that aired over the weekend didn't quite see what they thought.
Speculation ran amok after fans believed they spotted a glimpse of Captain Marvel's suit behind Chris Evans' Steve Rogers / Captain America in one of the 30-second trailer's brand new shots. Speculation turned to excitement and quickly spread on Twitter.
"If you look behind Steve in the trailer you can see someone walking behind him and the suit looks exactly like [that of] Captain Marvel," said one user in a tweet that garnered more than 900 retweets and nearly 2,500 likes.
"YOU CAN'T TELL ME THATS NOT HER," they continued in a follow-up tweet, accompanied by a gif of the shot in question.
Sorry, but I can tell you it's not her.
Looking at the trailer at a high quality resolution reveals – as many users on Twitter also spotted – that what appeared to the user to be the red and yellow of Captain Marvel's suit is actually the red hair of Elizabeth Olsen's Wanda Maximoff / Scarlet Witch.
At the 11-second mark of the trailer embedded below you can see the shot in motion (we also made a gif), which makes it even clearer that its hair. There's also the fact that the character behind Cap is wearing a long coat, which you wouldn't expect of someone wearing their superhero get-up.
Given the character next to the person behind Cap is Paul Bettany's Vision – who is in a relationship with Maximoff – making it more likely that it's Olsen's character.
Vision is also clearly in some distress. He's clutching his stomach or favouring his arm, plus he's without the yellow Infinity Stone that brought him to life in 2015's Avengers: Age of Ultron, and which was seen being pried from his head in the first trailer for Infinity War last year.
Given his state, it makes even more sense that Wanda would want to be at the side of the person (or to be more accurate, android) with whom she is close.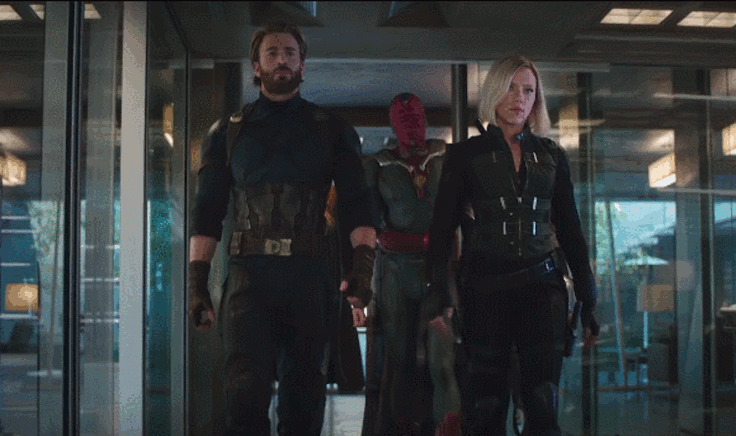 This doesn't mean Captain Marvel won't appear, however.
She is expected to appear in the untitled Avengers sequel set for release in 2019, a couple of months after her debut solo film in March. An appearance in Infinity War is certainly a possibility, most likely in a credits scene to drum up excitement.
Infinity War is the first part of a story that Marvel Studios boss Kevin Feige described as a true "finale", which will mark the end of the stories of many of the big screen's most popular superhero characters.
Dozens of characters will cross paths for the first time to take on mad Titan native Thanos (Josh Brolin), who plans to acquire the means to rule the galaxy and control all reality.
This means the original Avengers lineup (Robert Downey Jr's Iron Man, Chris Evans' Captain America, Chris Hemsworth's Thor, Scarlett Johansson's Black Widow, Ruffalo's Hulk and Jeremy Renner's Hawkeye) will meet the Guardians of the Galaxy (Chris Pratt's Star-Lord, Zoe Saldana's Nebula, Dave Bautista's Drax, Bradley Cooper's Rocket and Vin Diesel's Groot).
Many, many more will fight alongside them, including Tom Holland's Spider-Man, Chadwick Boseman's Black Panther, Benedict Cumberbatch's Doctor Strange, Paul Bettany's Vision, Elizabeth Olsen's Scarlet Witch, Anthony Mackie's Falcon, Sebastian Stan's Winter Soldier and Don Chealde's War Machine.
Karen Gillan's Nebula, Tom Hiddleston's Loki, Paul Rudd's Ant-Man and Pom Klementieff's Mantis are also set to feature. Avengers 4 is expected to include even more characters, such as Evangeline Lilly's Wasp.
Quite a few names then.
Avengers: Infinity War will be released on 27 April 2018 in the UK. Avengers 4 is set for release on 26 April 2019.