The wife of an American leader of Isis has opened up about her life as a jihadi bride and her decision to flee Syria with her four children.
In an honest BBC interview, Tania Georgelas revealed how she converted to Islam as a teenager in London and met her husband John on a Muslim dating site.
Georgelas said that she converted to Islam as a 17-year-old because she wanted to be "somebody pious".
"I wanted to change my identity. I didn't want to be Tania from Harrow anymore. I wanted to be someone pious, that people didn't call a tart. So it gave me structure in my life and it helped me feel like I belonged somewhere," she said.
After Egypt's President Mohamed Morsi was ousted in 2013, Tania and John Georgelas moved to Syria with their young children to join Isis militants in their fight against Bashar al-Assad's regime.
The family became "accustomed to hearing gunfire every single night", Georgelas said.
Georgelas said her husband want to raise their sons as jihadis. After moving to Syria, he changed his name to Yahya al-Bahrumi and became one of Isis' most prominent members.
"One day my son came home with a grenade to show me. I don't think it was a working grenade, but I lost my temper and pulled out a kitchen knife at John, [saying]: 'Don't you ever do this again'" Georgelas recalled.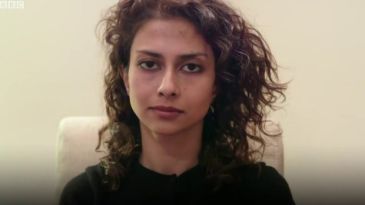 Shortly after the incident, Georgelas decided to leave her husband and Syria behind, moving her four children to a safe life in the US.
She described the terrifying moment she escaped, with the help of her husband. "I could see bullets flying everywhere. I remember putting my kids through the barbed wire and put the stroller under," she recalled. "It was so scary."
Georgelas last heard from her husband last year and does not know if he is still alive. "He apologised for the wrong he has done to me and our children. [He said] he prays they will be Muslims and that if I don't hear from him in six months it is most likely because he is dead," she said.
Georgelas now lives in Texas with her children and has renounced Islam. She divorced her husband in 2015 and is engaged to an American called Craig.
"I regret the choices I made, especially when it comes to my children," she said. "I have learned a lot from my mistakes."