A British Islamic State (Isis) hostage has appeared in propaganda video (Wednesday 7 December), said to have been recorded in the embattled Iraqi city of Mosul, condemning western airstrikes on the city.
In the footage released by the IS-linked Amaq news agency, John Cantlie, a journalist captured by IS in 2012, discusses the damage caused to the infrastructure surrounding Mosul by what he claims was coalition bombing.
Cantlie was originally kidnapped alongside American journalist James Foley - who was savagely beheaded in 2014.
The 45-year-old Briton was last seen on film in a video which emerged in July, also said to have been shot in Mosul.
This latest footage shows the Winchester-born reporter interviewing several purported residents of the city who complain of roads being destroyed and water pipes damaged.
The photojournalist is pictured wearing a long black coat but looking thin and gaunt. Cantlie begins by saying the city, the largest under the control of the extremists, once had five bridges across the Tigris River but now only has one.
He says the US-led western coalition, which is assisting the Iraqi Army and the Kurdish Peshmerga by bombing the city, "took it upon themselves to systematically destroy" four bridges causing "pandemonium".
It is not clear to what extent his words have been scripted or whether his statement is being given under duress.
In the nine-minute clip, Cantlie states that although the coalition's aim is to stop the "mujahideen moving freely within Mosul" these airstrikes are only harming ordinary citizens.
"There are no Mujahideen here. Mujahideen are fighting on the frontlines, many kilometres (away)," he states.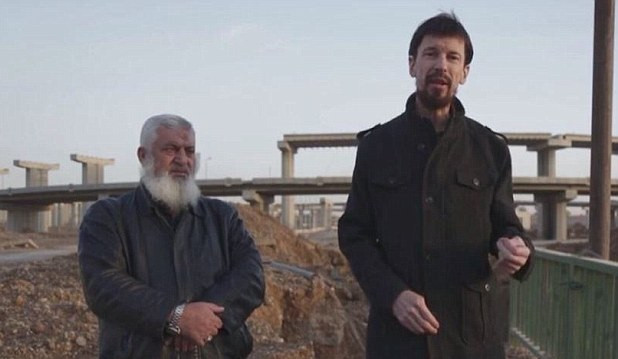 Cantlie, who worked for several newspapers, including The Sunday Times, The Sun and The Sunday Telegraph, adds that: "Since the coalition began dropping bombs in earnest on this city, water is now a big problem," he says.
Cantlie has been used by the terrorists in several videos since his arrest, including a series titled Lend Me Your Ears.
His father Paul, 80, died from complications following pneumonia in 2014 and a few months later Cantlie, speaking via another propaganda video, said that he held the government partially responsible for the death of his father.