A seven-month battle to liberate the town of Sirte from Islamic State (Isis/Daesh) control successfully ended on 6 December as Libyan forces cleared the last buildings occupied by the Islamist militants.
The anti-Isis fighters, led by the forces from the city of Misrata and backed by the US-led air strikes, took full control over a final patch of ground in Sirte's Ghiza Bahriya district after hours of intense fighting which left 12 fighters dead.
Several women and children who had been taken hostage by the IS militants were rescued from the buildings. Celebrations erupted among the Libyan forces, with fighters firing in the air chanting "Free Libya" and "The blood of the martyrs was not for nothing", according to Reuters.
The town, 450km (280mi) east of Tripoli, was the birthplace of the country's late leader, Muammar Gaddafi, and the place where he was killed in 2011. It fell under control of IS in early 2015, becoming the group's most important centre of power outside of Syria and Iraq.
The military campaign against IS will continue until the wider area is secured. Ahmed Hadiya, the head of the media centre for the anti-IS operation, told The Associated Press: "This is the last major battle, but it is not the end of military operations, nor the declaration of liberation."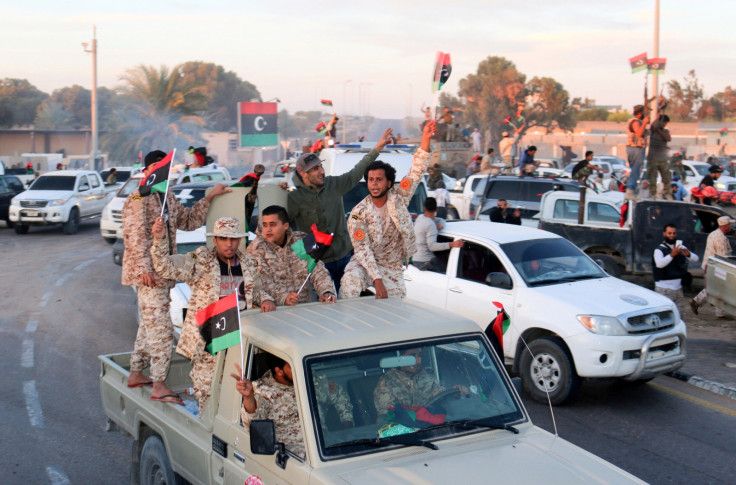 Sirte was the last IS stronghold in the country, where the terror group gained a foothold during the unraveling of a bloody civil war which saw the end of Gaddafi's rule and the beginning of a period of instability and chaos.
While IS has lost its major base, it still maintains a presence in the country, particularly in the eastern city of Benghazi. The Associated Press reported IS militants may now seek sanctuary elsewhere, such as Libya's still lawless southern regions. Another fight against Islamic militants is ongoing in Benghazi, under the command of Marshal Khalifa Hifter who answers to the Libyan parliament.
The country remains divided between rival parliaments and governments, each backed by a loose array of militias and tribes. Western nations recognise the UN-Backed Government of National Accord and its Tripoli-based Prime Minister Fayez Serraj, but the Libyan parliament, which is based in the eastern city of Tobruk, refuses to officially recognise the government, which is seen as a Western imposition.