Isis fighters in Egypt have been circulating kill lists of Christians, leading to brutal attacks members of the minority faith and causing a mass exodus from the Sinai Peninsula.
Reuters reports that over the past month seven Christians in the town of Al-Arish have been burned, beheaded and shot dead because of their faith. One family described how their father had acid sprayed in his face as he tried to defend his land from the neighbours.
Following the wave of bloodshed since the beginning of January, 175 families from Egypt's Christian Coptic minority have fled from the Sinai to the industrial city of Ismalia and Cairo to avoid the sectarian violence.
Islamic State's affiliate in Egypt has been waging a ground war against government in the lawless Sinai for over two years with a virtual media blackout on the insurgency. Regular attacks in Al-Arish have become a perennial problem for the military government of Abdel Fattah al-Sisi and one of the indicators of his failing rule.
However, the shift in Islamic State tactics away from attacking government buildings and police checkpoints has marked a sea change in how the terror group operates. Analysts have said the new strategy aims to ferment sectarian hatred of the kind that benefited Isis in Iraq and Syria. Such violence, if it was exported beyond the Sinai, would act to further destabilise military rule in Cairo.
Copts comprise about 10% of Egypt's 90 million people making them the largest Christian minority in the Middle East.
Ishak Ibrahim, a researcher at the Egyptian Initiative for Personal Rights, told Reuters the violence against Copts in the Sinai had taken form never before seen in Egypt. In the past local or government-sponsored persecution of the minority had been played off as a land rights dispute or having a connection to some other issue.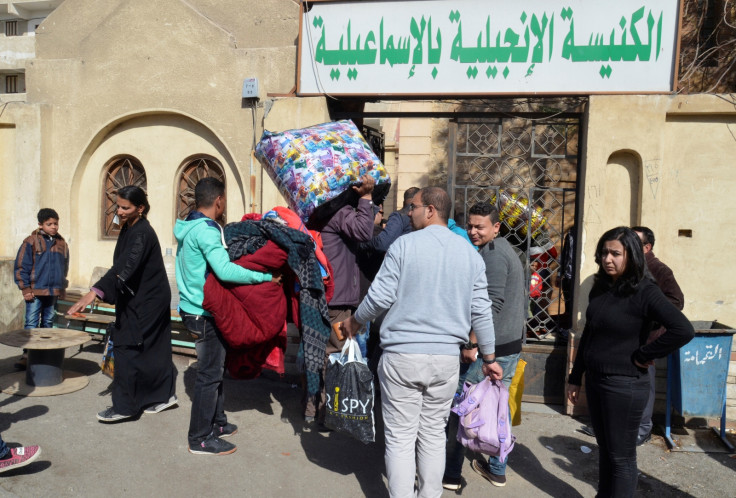 "What we are seeing here is new. There has always been violence against Christians but it was usually for a 'reason' like land disputes. Now Christians are killed just for being Christians," he was quoted as saying.
"Militants are sending the government a message, saying they can change part of the country's demographics. This is a dangerous precedent," he added. "And who knows if it will be replicated in Upper Egypt or elsewhere."
On 11 December Islamic State (Isis) claimed responsibility for a deadly suicide bomb attack on the largest Christian church in Cairo. According to a statement circulated by the terror group, they were behind the attack that killed 25 people, including the bomber, and wounded a further 49 worshippers.
The bomb exploded on 11 December in a chapel adjoining St Mark's Cathedral, Cairo's largest church and the seat of the Coptic papacy. Although security is usually tight, Egyptian officials say that a bomb containing at least 12 kg of of TNT exploded on a side of the church normally used
by women.