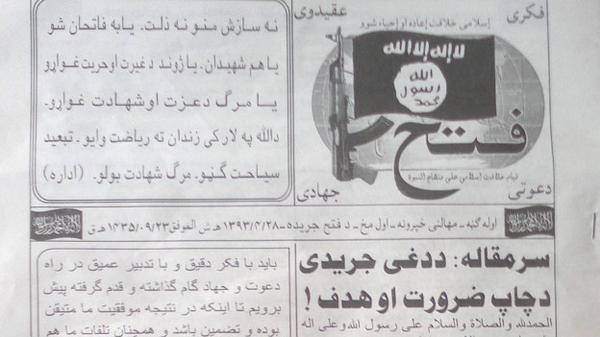 The Islamic State (Isis) is reportedly expanding its reach in the South Asian region and distributing pamphlets across the capital city of Pakistan's Khyber Pakhtunkhwa province, Peshawar, and other provinces bordering Afghanistan.
Express Tribune has reported that the pamphlets have been anonymously distributed to Afghan journalists working across Peshawar, and some Afghan refugee camps in the outskirts of the city.
The pamphlets, titled Fatah (an Urdu word meaning victory) have been published in Pashto and Dari. Pashto and Dari are the two official languages of Afghanistan.
The logo carried on the pamphlets is a Kalashnikov assault rifle.
While the editor's name on the last page of the pamphlet appears to be fake and the location of publishing is also unclear, Isis has taken ownership of the publication by introducing itself as Daulat-e-Islamia (Islamic State). In the pamphlets they urge the local residents to struggle for the formation of an independent Islamic caliphate.
ISIS Wall Chalking
Isis wall chalking seeking support for the militant group is another growing trend seen across Peshawar, as well as Saudi Arabia.
While Express Tribune reported wall chalking and Isis stickers plastered across cars in Peshawar, Al Arabiya reported on Riyadh residents' shock upon finding Isis slogans on school walls.
Recently pro ISIS graffiti appeared in Balochistan - then came deadly attack on Zikris -- now pamphlets in Peshawar pic.twitter.com/6vqguP1OCi

— omar r quraishi (@omar_quraishi) September 2, 2014
Pro-ISIS wall chalking seen in Peshawar, KPK, Pakistan. #ISISInPakistan (photo 3) pic.twitter.com/qIckln62hV — GodHatesFAQs (F.J.) (@MrPolyatheist) September 1, 2014
"No Hindu, No Zikri Only Sunni, Only Sunni" #ISIS group 'Lashkar e Khurasan' Wall-chalking in Dasht, Balochistan pic.twitter.com/wFbpVsoapZ

— TheBaloch (@BalaachMarri) August 25, 2014
Was only a matter of time ISIS emerges in Peshawar, distributes pamphlets in Pashto 4 Khilafa http://t.co/DpdVy1SRzA ... #Terrorism #Pakistan — Hadiya Shah (@hadiyashah1) September 2, 2014