Three London schoolgirls who fled Britain to join Isis - also known as Islamic State - in Syria have made contact with their families, it was being reported on 27 May.
Amira Abase, 15, Shamima Begum, 15, and 16-year-old Kadiza Sultana were filmed leaving Britain in February, then in Turkey before arriving in Syria. It is thought they are in the Isis "capital", Raqqa, where it is feared they may already have become "Jihadi brides" to Isis militants.
Since leaving the UK the three girls have made very little contact with their families. However tonight ITV is reporting that all three contacted families - two via the internet, one by phone.
Although the contents of the communications have been kept secret, it is believed the girl who made the phone call said all three are safe and well and that none of them expressed any desire to return to Britain. The families of the girls are convinced the messages are genuine.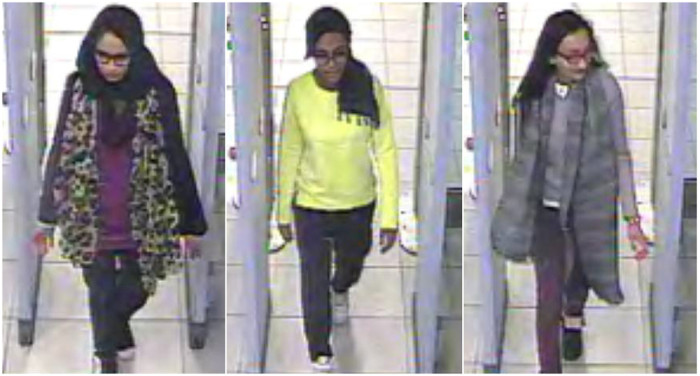 The only previous communication came in April when Abase posted an image of a takeaway meal along with the message " dawla takeaway w/ @um_ayoub12 pic.twitter.com/19cK7PPIWM". The other person referred to is though to be another 16-year-old muhajirah.
All three girls attended Bethnal Green Academy, which Sharmeena Begum, 15, also attended before fleeing to Syria last December.
After the girls disappeared Metropolitan Police Commissioner Sir Bernard Hogan-Howe apologised to their families. However it later emerged that at least one of the girls appeared to have been radicalised by her own father.
Hundreds of UK Muslims are thought to have travelled to Syria and Iraq to join Isis, with some dying in combat and others returning home. However hundreds remain in the region.
Most notorious of the British militants, Mohammed Emwazi (Jihadi John), is one of the world's most wanted men after decapitating at least six people on video, including Britons Alan Henning and David Haines.