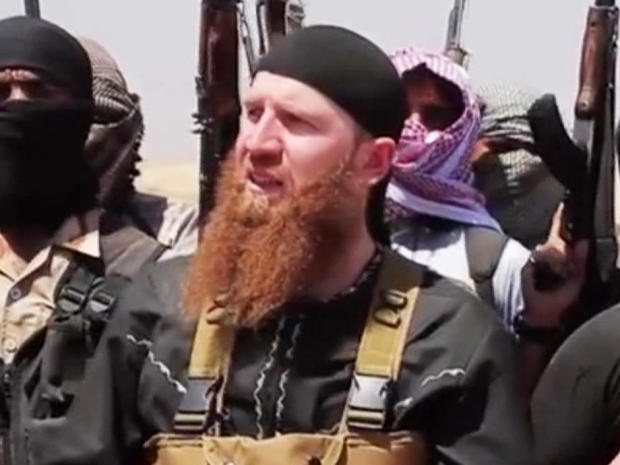 The US says it targeted one of Isis's top military commanders Omar al-Shishani in an air strike in Syria but has so far refused to comment on reports from the region that he was killed. If confirmed, the death of Chechen al-Shishani - often described as the organisation's de facto minister of war - would be a major loss for Daesh, under attack from all sides as it attempts to impose a caliphate across Syria and Iraq whilst also carrying out terror attacks across the world.
al-Shishani, 30, a senior military advisor to Isis leader al-Baghdadi, is reported to have died in an air strike near the Syrian town of al-Shadadi in which 12 other Isis fighters were killed. The attack took place on 4th March. Syrian Kurdish YPG militia who are fighting Daesh in the region reported al-Shishani's death but so far the US would only say that he was a target.

Born Tarkhan Tayumurazovich Batirashvili the Georgian-born militant, recognisable by his long ginger beard, has a $5m reward on his head by the US State Department. al-Shishani, who fought the Russians in Chechnya, leads the group's "special forces" and appears in a number of Daesh propaganda videos. It is thought al-Shishani - also known as "Omar the Chechen" - oversaw a prison near the group's Syrian capital Raqqa where several Western hostages were believed to have been held.
A number of false reports of al-Shishani's death or capture have been circulated before. If confirmed he would be the most senior Isis commander killed since the group's Libyan leader Abu Nabil was killed in November 2015. "Jihadi John," who also died in November 2015, was a relatively minor figure within Isis.

The fight against Isis was not included in the ceasefire in Syria which started last week and has so far held, albeit shakily. Hundreds of thousands of people have been killed and millions displaced since the war began in 2011.