Tony Blair has apologised for "mistakes" in the run up to the invasion of Iraq and admitted that there are "elements of truth" in the view that it led to the growth of Isis (Islamic State). The former prime minister said he was sorry "that the intelligence we received was wrong," adding that even though Saddam Hussein had used chemical weapons against his own people "the program in the form we thought it was did not exist."
In the run up to the May 2003 invasion of Iraq both the US and Blair-led British government asserted that Iraq possessed large stockpiles of weapons of mass destruction and more were being clandestinely produced.
"I also apologise for some of the mistakes in planning and, certainly, our mistake in our understanding of what would happen once you removed the regime," he told US news channel CNN in an interview that is yet to be broadcast.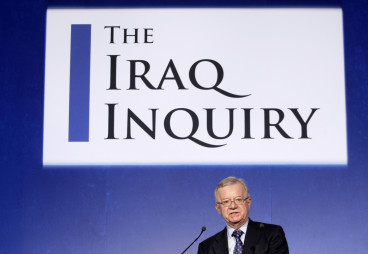 Blair also conceded that that there are "elements of truth" in the view that the invasion was the principle cause of the rise of IS. "Of course, you can't say that those of us who removed Saddam in 2003 bear no responsibility for the situation in 2015," he said.
But he said it was important to realise that "the Arab Spring which began in 2011 would also have had its impact on Iraq today [and] Isis actually came to prominence from a base in Syria and not in Iraq."
The claim appears to contradict former prison commanders, analysts and soldiers who have at least partially attributed the origins of ISIS to the US detention facility Camp Bucca in the Iraqi town of Garma. It held thousands of prisoners of war including nine members of ISIS's top command, including the group's current leader Abu Bakr al-Baghdadi.
Stopping short of a full apology for the war, Blair said he finds "it hard to apologise for removing Saddam", saying that he thought that "even today in 2015, it's better that he's not there than he is there."
His comments come shortly before Sir John Chilcot is to announce a timetable for completion of his inquiry into the war, which claimed the lives of tens of thousands of Iraqi's and 179 British servicemen. More than 4,000 US troops also died during the conflict.
Scottish First Minister Nicola Sturgeon accused Blair on Twitter of beginning a "spin operation" for the expected criticism when the long delayed report comes out.
No date has yet been given for the release of the final conclusions - more than six years after the inquiry was set up by then Prime Minister Gordon Brown with an assurance it would take a year. Relatives of soldiers killed in the conflict have threatened legal action if a date is not fixed soon.
Asked how he feels about being branded a "war criminal" for his decision to go into Iraq, Blair said he did what he thought was right at the time. "Now, whether it's right or not, that's for -- everyone can have their judgement about that," he said.