Isis uses tragic photo of Alan Kurdi in propaganda magazine Dabiq to threaten potential Syrian refugees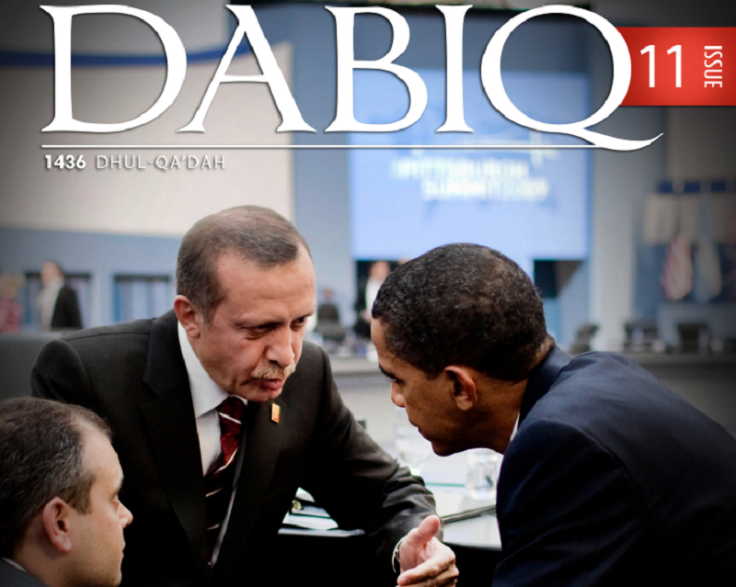 It was the photo that moved the world and woke Europe into action to help hundreds of thousands of refugees fleeing the horrors of war and Islamic extremism in Syria and Iraq. Now, the image of a drowned Kurdish boy lying prone on a Turkish beach has been seized by the very same militants he died fleeing, in an attempt to terrorise those who have not already left jihadist-controlled areas into staying.
The Islamic State (Isis) has published the iconic picture of three-year old Alan Kurdi's lifeless body in the latest issue of its propaganda magazine, Dabiq, to argue that refugees who die escaping the group's brutal rule deserve their fate.
The image tops a two-page article in the English-language monthly titled: "The danger of abandoning Darul-Islam [Muslim lands]". "Sadly, some Syrians and Libyans are willing to risk the lives and souls of those whom they are responsible to raise upon the Shariah – their children – sacrificing many of them during the dangerous trip to the lands of the war-waging crusaders ruled by laws of atheism and indecency," the article reads.
The author goes on to say that leaving the self-styled caliphate for Europe or other countries of Christian roots is an act of apostasy – a crime that might be punished with death under draconian interpretation of sharia law adopted by the Islamist group.
Kurdi, whose name was initially misreported as Aylan, drowned in the Aegean Sea along with his mother and five-year-old brother as their boat sank on the way to Greece.They were trying to reach Germany and start a new life. The family had fled the embattled northern Syrian city Kobani, which became a symbol of Kurdish resistance against IS this year, putting up a successful, strenuous defence during months of siege.
The photo of the child's body being carried away by a Turkish policeman after it was washed ashore near Bodrum was printed by newspapers all around the world, sparking a way of solidarity with migrants.
Abdullah Kurdi, Alan's father, who survived the tragedy,went back to Kobani to bury his wife and children and has vowed to remain in his native city to fight the IS.
In an exclusive interview with Newsweek Europe, he said: "I feel like I have lost everything, that my life is over but I must fight and struggle for what's left."

© Copyright IBTimes 2023. All rights reserved.