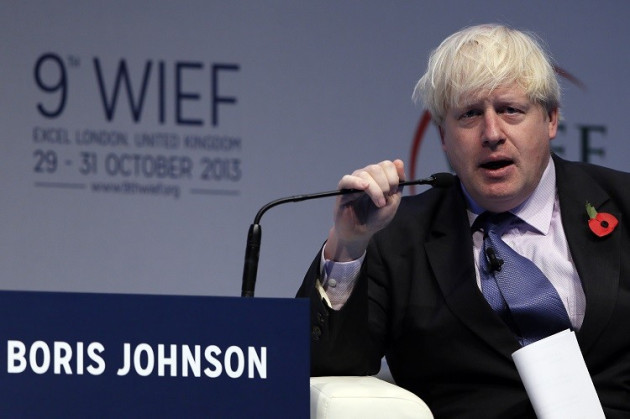 "It's very important that London should be a strong Islamic financial centre," declared the city's Mayor Boris Johnson at the World Islamic Economic Forum held in the English capital.
Indeed it is Boris, but let's not - as too often happens - forget about the rest of the country.
Islamic finance is already a big market, but it's going to get huge. It has grown by as much as 30% in value each year since the millennium and is set to hit $2.6tn (€1.9bn, £1.6bn) by 2017.
The UK, led by its Prime Minister David Cameron, is positioning itself as the Western core for Islamic finance, so it can cash in on this increasingly lucrative market.
Johnson, with lustful eyes, is rubbing his hands raw at what this means for London, which will undoubtedly chomp the lion's share of any benefit.
However, we can't let London run so far ahead on its own in capturing the market when there are so many other British cities deserving of the halal cash.
Yes, London should be the centre. It has the infrastructure, the reputation, the workforce. But we should encourage any new businesses based on Sharia-compliance to look beyond the capital to set up branches, regional offices, call centres - whatever.
Look at Bradford, Birmingham, Leicester, and beyond. All with sizeable Muslim populations from which to draw talent and expertise. Potential thriving markets in areas that need the jobs and investment a dawning Islamic finance market can bring.
The government can look at creating Islamic finance-specific enterprise zones in these areas, to encourage firms to set up at least some of their operations there.
It should set about educating local governments on how they can make their towns, cities and counties accommodate the Islamic finance sector.
As Johnson said, his city relies heavily on Islamic finance to fund "stupendous projects" such as the Shard. Harnessing Islamic finance could be a route for local authorities to inject the much-needed investment in their rundown, neglected corners of forgotten Britain.
At the WIEF, I asked Johnson why London should win again instead of other cities in the UK.
He trotted out the usual line of everyone outside of London benefitting from the spillover effect of its success. "It will be good for Bradford," he said, of London becoming such a hub.
What would be even better for Bradford is if there was a concerted effort to ensure that London doesn't hog all of the incoming business, something I'm sure Johnson secretly hopes will happen.
It's not good enough to simply say that the proceeds of London's success will be redistributed elsewhere in the UK.
The rest of the UK needs something more sustainable than just having cash thrown at it by central government every so often.
It needs businesses to set themselves up outside of London for these places to really feel the benefit of the Islamic finance revolution we are purportedly on the cusp of.
We must remember not to forget, yet again, that there is more to the UK than the English capital.
Shane Croucher is a senior business journalist at IBTimes UK.