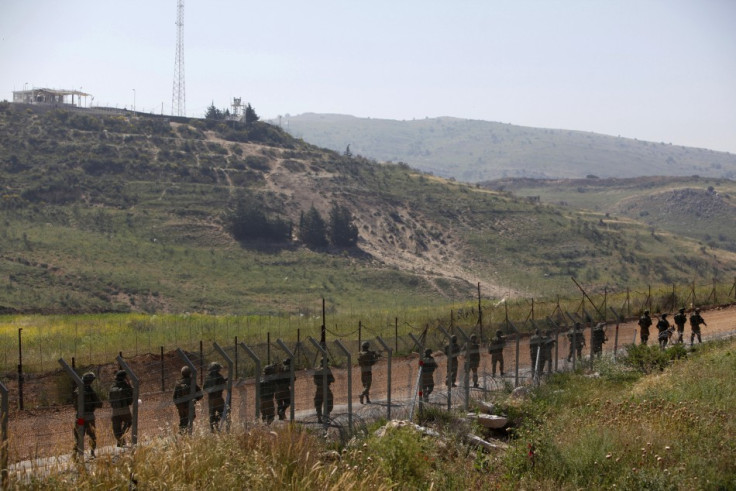 After last Sunday's protests in the Golan Heights, tensions are mounting between Syria and Israel. As the Israeli authorities, backed by the U.S., accused the demonstration of being an enterprise backed by the al-Assad regime, according to the Associated Press, a Syrian government newspaper warned on Tuesday that more Syrians and Palestinians plan to march to the Israeli border. In what seems like a propaganda attempt, the newspaper reportedly warned: "Israel the day will come when hundreds of thousands of refugees return to their occupied villages."
Israel's military responded swiftly with a stern warning as it insisted in a statement that breaching the frontier lines "is a violation of international agreements," and the military would "operate as necessary to prevent the recurrence of similar incidents in the future."
"Provocative rioters who breach the Israeli security fence place themselves in danger and must accept the responsibility for their actions," the statement added.
On Sunday, Israeli forces opened fire on Palestinian and Syrian protesters, killing an estimated 23 people who tried to cross into the Israeli-occupied Golan Heights. Israel defended its position as chief military spokesman, Brigadier-General Yoav Mordechai, first confirmed that troops had opened fire but added that he could not confirm any casualties. Explaining the Israeli position he said, "It's a message to anyone who tries to violate Israel's sovereign borders," he said, describing the army's actions as a "measured, focussed and proper response".
While many found the response disproportionate very few states formally condemned the move.
Russia on Monday issued a statement indicating that it was "deeply concerned" about the situation, while adding that. "We express deep concern in relation to the new surge of Israeli-Palestinian confrontations. The death and injury of many peaceful demonstrators in the course of these protests is of particular concern."
The United States also commentated on the situation and issued a statement: "We are deeply troubled by events that took place earlier today in the Golan Heights resulting in injuries and the loss of life. We call for all sides to exercise restraint. Provocative actions like this should be avoided."
However the US statement also emphasized that "Israel, like any sovereign nation, has a right to defend itself."
On the other hand while Lebanese President Michel Suleiman described Israel's violence during Sunday's "Naksa Day" as a "genocide" and condemned the violent move, before adding that "Such aggressive behaviour will not make the Palestinian people and the Arab states stop calling for acquiring the full rights including the Palestinians' rights of returning to their homelands which were occupied by Israel during the 1967 war" Lebanon, in order to prevent demonstrations, decided to close its borders on Sunday as chief of staff, Gen. Jean Kahwagi, officially declared the Lebanese-Israeli border a closed military zone. The move confirmed reports that, as a result of Iranian President Mahmoud Ahmadinejad ongoing battle with Supreme Leader Ayatollah Khamenei, Iran's influence on Lebanon has considerably diminished.
However, the country also has problems of its own as the government has collapsed and political instability is once again a serious threat.
Nonetheless if reports that the Assad regime backed the protests are true, his move could cost him a lot as on Monday Israel complained to the UN about what it calls a "Syrian provocation". The government insisted that as many protesters were unfamiliar with the minefields in the region, ten of them were instantly killed when they hit the mines, when many more were wounded.
Israel's move however certainly runs the risk of being perceived as controversial, even by the UN, as the state's forces still fired live ammunition at the crowd, which also resulted in killings.
The United Nations High Commissioner for Human Rights, Navi Pillay said she was "deeply troubled by reports of use of live fire by Israeli security forces against civilians protesting" and added that "Between 30 and 40 protestors have reportedly been killed by Israeli security forces in the past three weeks", "The Government of Israel has a duty to ensure that its security personnel avoid the use of excessive force.
"However difficult the circumstances, the use of live ammunition against allegedly unarmed protestors, resulting in large numbers of deaths and injuries, inevitably raises the question of unnecessary and excessive use of force." She said.
However Ms. Pillay also expressed concern over allegations that civilians were encouraged by the Syrian authorities to protest in areas where landmines are located.
"Syrian authorities have an obligation to ensure that civilians are prevented from entering areas where landmines are planted," she said as she called for both countries to carry out independent and transparent investigations.
In the last month the relationship between Syria and Israel became more and more tense as more Syrian pro-Palestinian protests were organised. Three weeks before Sunday's protests for example, hundreds of protesters successfully breached the border for several hours before they were rounded up and sent back to Syria with four people reported killed. While Israel blames Syria for supporting and helping to organise the protests, both countries have hardened their mutual positions, an escalation of threats and violence between them will not help solve the real problem they have, which concerns the Palestinian refugees from 1948 who demand a return to the homes of their ancestors and who lost properties during Israel's war of independence six decades ago and who insist they are only asking for their "inalienable right to return" to their lost properties.