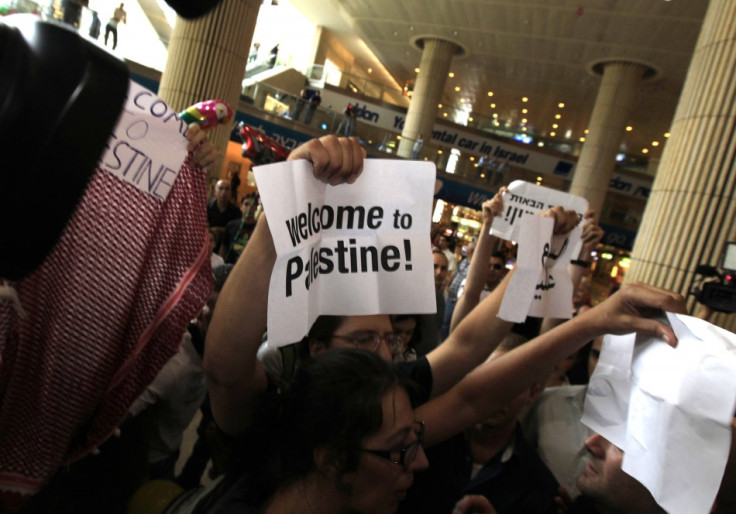 Four female activists from Wales detained as they entered Israel to visit the West Bank town of Bethlehem could be deported today.
The women were detained as part of a so-called "flytilla" protest after they landed at the country's Ben Gurion Airport along with eight other British nationals on Friday.
According to reports from the Western Mail, the women are now refusing to comply with threats of deportation and one may even go on hunger strike as they insist their detention is unfounded.
The "flytilla" was organised in protest at a flotilla of ships being prevented by Greece from sailing to the Gaza Strip in a bid to break the Israeli blockade on the Palestinian territory.
The women are among 124 activists - mostly European, though understood to include at least two American citizens - being held at Givon prison in Ramle.
The partner of one of the woman detained, Mr McLean, told journalists that his partner and her friends were being held alongside people in their 70s and 80s.
"It's pretty outrageous how [the Israeli authorities] can perceive those people as being a threat and justify it," said Mr McLean. He added: "They are going to resist all attempts to be deported until they are forcibly removed. It's a peaceful protest and at the moment no explanation has been given on the Israeli side as to why any of them are being held for questioning."
According to reports, the activists were handcuffed and taken to a nearby prison soon after their easyJet flight from Luton touched down on Friday.
Mr McLean also exposed the detention conditions as he said the women were being held in cells of between six and eight people and had been singing protest songs.
A lawyer who met some of the British activists on Saturday, Anan Odeh, complained to the press that the conditions in which they were held was "shocking".
"They were put into trucks that they normally use to transfer prisoners," he said in an interview posted online. "These metal trucks with metal chairs are very small. At least 12 people were put in one of these trucks and left there for a long time without food, drinks or air conditioning.
"After several hours they asked for food and drinks, but they got nothing. This to me is shocking to hear, as there are several men of age that were detained."
Sofiah Macleod - from the Scottish Palestine Solidarity Campaign, responsible for coordinating the activists from the UK - said the British detainees were being held in cells with campaigners from France, Belgium and Germany.
She said they had flown in to the country intending to take part in a week-long cultural programme.
"They have been seen by lawyers and the consul but are still being denied entry to proceed to Bethlehem. There have been no charges and we are not aware of what the charges are or what legislation they are being held under."
Jake Griffiths, leader of the Wales Green Party, said party MP Caroline Lucas was planning to raise the issue of the group's treatment in Parliament this week.
He added: "Obviously we are supporting the campaign Pippa has been involved in to raise the plight of the Palestinians."
He added: "There does not appear to be any grounds for her being detained, as travelling to the West Bank is meant to be permitted for British citizens."
However, despite criticisms, Israeli Prime Minister Benjamin Netanyahu had ordered authorities to "act with determination, while trying to avoid unnecessary friction" with anyone taking part in a provocation, a statement from his office said.
It is understood the busy holiday season is making it difficult to find flights back to the UK for the activists.
A Foreign Office spokesman said: "We can confirm that a number of British nationals were detained on Friday at Ben Gurion International Airport in Tel Aviv.
"All the British nationals currently detained pending deportation have been visited by consular staff from the embassy in Tel Aviv and we have been in contact with families in the UK."