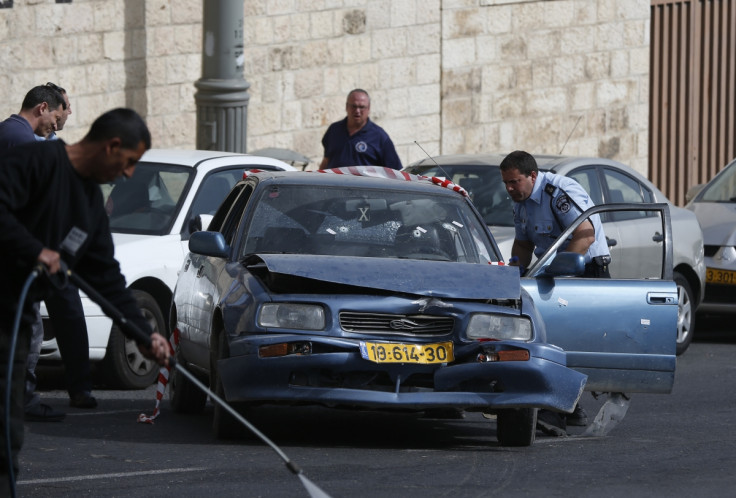 Two Israelis who fought back at attackers involved in a rash of Palestinian assaults on 8 March have been hailed for their bravery as more violence hit the region. Yishai Montgomery, 26, was dubbed "guitar hero" in the Israeli press after it emerged he smashed his acoustic guitar over the head of a knife-wielding assailant who killed American tourist and wounded 12 victims in Jaffa.
Yonatan Azarihab, an ultraorthodox man in his 40s pulled a knife out of his neck after being repeatedly wounded in a separate attack and turned the weapon on his attacker. Montgomery said he had been playing his guitar near a beach in southern Tel Aviv when he heard commotion from a nearby road.
Palestinian Bashar Masalha, 22, had gone on a stabbing spree killing US student Taylor Allen Force, 28, of Lubbock, Texas, who was in Israel on holiday. "I saw a man in a grey shirt running towards me after hearing screams and lots of yelling nearby," Montgomery told Ynet. "All of the sudden I realized he has a knife. He jumped on the bench yelling at me and trying to stab me so I grabbed my guitar and hit him over the head with it."
As the attacker fled, Montgomery gave chase armed only with his musical instrument. Masalha was eventually killed by security forces. Montgomery received wide praise and support after his story was revealed. An online crowd-funding campaign to buy him a new guitar raised almost $3,000 in less than 24 hours. The generosity was soon surpassed by a local music store that gifted him a brand new replacement.
Security forces in the town of Petah Tikva did not need to neutralise an attacker that stormed a corner store as Azarihab, a father-of-five raising funds for charity in the area, killed the man with his own weapon.
"I was inside the store and all of the sudden I felt someone jump on me, I didn't realise what was happening until someone yelled 'terrorist' and I saw the knife in his hand," Azarihab told Ynet from his hospital bed. He received several stab wounds to the body in what police described as a "frenzied attack", but still managed to pull out the blade stuck in his neck and fatally slash his assailant with it. "I thought today was my last, but I'm still here," he said.
His and Montgomery's tale of courage emerged as two Palestinian gunmen were shot dead by police in Jerusalem on 9 March. Authorities said the pair, identified as Abd al-Malik Abu Kharub, 19, and Muhammad Jamal Al-Kaluti, 21, tried to run over a policeman with a vehicle and were subsequently engaged by security forces.
A Palestinian man who was in the area was seriously injured in the gunfight that took place near the New Gate of Jerusalem's Old City. The man was taken to a hospital with gun wounds to the head. Earlier on the same day another Palestinian who attempted to attack Israeli soldiers at a West Bank checkpoint was also killed.
The incidents, which came as US vice-president Joe Biden was in Israel on a two-day visit, were the latest in a wave of violence that has engulfed the region over the past six months. Some 28 Israelis have been killed in a series of stabbings, shootings and other attacks since September. At least 179 Palestinians have lost their lives to Israeli fire in the same period, with the Israeli military claiming they were mostly attackers.
Violence erupted in September over a long-running dispute about access to Jerusalem's al-Aqsa mosque compound and soon escalated, fuelled by factors, including the Palestinians' growing frustration at the repeated failure of peace talks and continued Israeli occupation. Israel says Palestinian youths are being incited to violence by radical leaders in an atmosphere where attacks are glorified and encouraged on social media.