We must not let Syria's Palestinian refugees be forgotten in fog of war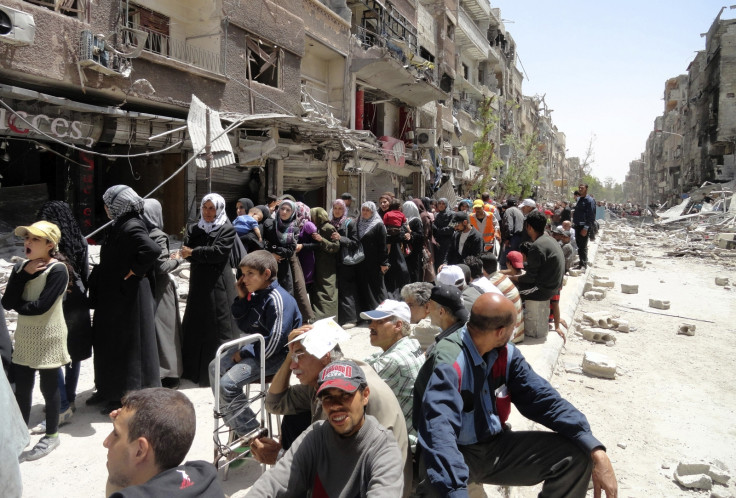 The fifth anniversary of the Syrian war looms. An embattled people stands more in hope than expectation that the recent cessation of hostilities deal will stop the violence and herald the beginning of the end of one of the most pitiless conflicts of our age. It is the best opportunity Syria has had in five years for a period of calm, stability and perhaps even peace.
This potentially pivotal moment has generated a plethora of headlines. But amid a never-ending stream of column inches, there is one story that has been largely untold and frequently forgotten; that of the Palestinians; more specifically, some 560,000 Palestine refugees who were registered at the start of the conflict with UNRWA, the UN agency mandated to assist them. We must not allow their story to be obliterated by the fog of war.
Hamza, a student at one of our schools in central Syria, is part of this forgotten community. Originally from Yarmouk, a Palestine refugee camp in Damascus, devastated, besieged and now largely in the hands of ISIS, he has been displaced inside Syria many times. Hamza currently lives with his mother and sister in Homs in central Syria. A talented draftsman with a clear vision of where his ambitions might lead, he hopes one day to become an architect. His is a destiny that must be nurtured and respected. He must not be left behind – as world leaders pledged to ensure at the recent Syria conference in London.
Displacement, marginalisation, dispossession, disadvantage; these threaten to define the Palestinian experience, to define Palestinian identity itself.
Hamza is one the 450,000 Palestinians who have remained in Syria, the rest having fled the country. Half of those remaining have been displaced at least once inside Syria. For them daily life is bleak and a constant struggle, with more than 95 percent relying on UNRWA assistance to meet their basic needs. Unemployment, loss of assets and shattered livelihoods have resulted in deeply entrenched poverty. This, combined with exposure to violence and trauma, has profoundly affected the civilian population we serve. Since 2011, life expectancy in Syria has dropped from 79 years to 56 years, according to the Syrian Centre for Policy Research — just one measure of the shocking human impact of the armed conflict.
But in the face of these challenges, in spite of 16 colleagues losing their lives since the conflict began and with 30 missing, UNRWA's commitment remains strong to serve Palestine refugees through these terrible times. Indeed, the talk of peace has sharpened our vision of the immediate mission that lies ahead. From a humanitarian perspective, the immediate priority is increased access to the people we are mandated to serve.
Humanitarian access
For the first time in eight months we have been able to establish a land bridge, gaining access to besieged and hard to reach civilians around Damascus, delivering food, blankets and other essential supplies to about 6,000 families. We have had access for almost a month to these desperate civilians and are working robustly to widen the scope of this intervention towards sustained and prolonged humanitarian access.
This work is part of a wider UN effort to deliver life-saving humanitarian aid to an estimated 1.7 million people in hard-to-reach areas in the first quarter of 2016 through UN interagency convoys. But we have seen only too often how fleeting improvements in access can be dashed and populations left without assistance again.
From an UNRWA perspective, our current level of service provision is remarkable considering the impact of the conflict on our installations. At least 46 of a total of 219 UNRWA facilities have been damaged or require major repairs and 22 UNRWA vehicles from a fleet of 162 have been stolen or destroyed. Nonetheless, we have 43,000 students enrolled in our schools and have promoted innovative "education in emergency" programmes such as online interactive support classes. In 2015, the agency's 15 health centres and 11 health points—temporary makeshift clinics in conflict-affected areas—conducted several hundred thousand consultations.
We support broader UN calls on all parties to ensure unconditional, unimpeded and sustained access to 4.6 million people, including those in hard to reach and besieged location across Syria in accordance with recent UN Security Council resolutions. And we join the demand for the immediate lifting of all sieges imposed by any of the parties to the conflict. Civilians must not be allowed to languish beyond the reach of the UN.
I return to Hamza, that Palestinian student from Yarmouk. His experience and that of his community is replicated in different forms around the region for Palestinians in enclosed societies such as Gaza under illegal blockade, the restrictive refugee camps in Lebanon and the enclaves in the West Bank surrounded by the Israeli-built barrier or restricted and fragmented in other ways. Displacement, marginalisation, dispossession, disadvantage; these threaten to define the Palestinian experience, to define Palestinian identity itself.
Just as with Palestinians from Syria, so the Palestinians in the wider region must not be left behind, their story cannot be forgotten. Peace will not be possible without a resolution of their plight. This will only come about by robust political action. Meanwhile, we will continue to bear witness to their plight, to report and to advocate for their protection, for a just and lasting solution for them, based on UN resolutions and international law.
Achieving such a resolution for the Palestinians would be a major milestone on the long road to peace in the Middle East. It would hold out to millions of dispossessed and largely disenfranchised people the promise of dignity, stability, prosperity and peace for themselves and future generations, which they have been denied for far too long. Failure to act, on the other hand, is likely to risk further instability and misery.
Chris Gunness is the spokesperson of the United Nations Relief and Works Agency (UNRWA)
© Copyright IBTimes 2023. All rights reserved.