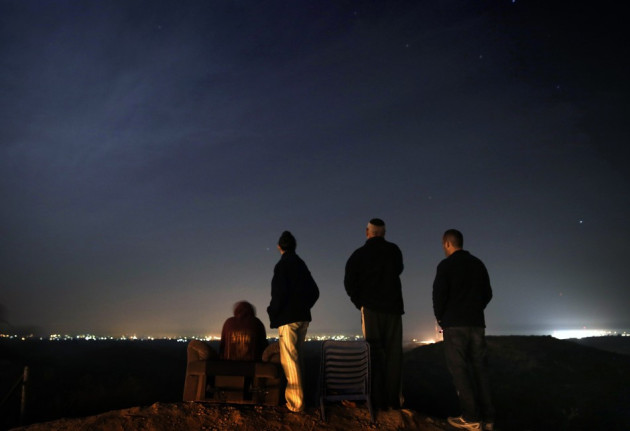 The ceasefire agreement reached between Israel and Hamas appears to be holding despite rockets being fired from the Gaza region.
According to Israeli radio reports, rockets fired from the Gaza region landed in Israel even after the agreed ceasefire between Israel and the Hamas came in to effect at 19:00 GMT last night.
Israeli police and local media have subsequently confirmed the reports of rocket fire.
The Israel Defense Forces (IDF) did not respond to the launch but warning sirens were heard after the agreed truce in many regions including Eshkol, Sderot and Hof Ashkelon, where some of the rockets landed.
One rocket was intercepted by Israel's Iron Dome anti-missile system over the Ashdod region at around 22:30 local time [20:00 GMT]. It was unclear why this and other rockets were fired from the Gaza region.
"The IDF has stopped firing at the Strip and will open fire only if our forces are put in danger. The operation's goals have been achieved. Hamas suffered a serious blow and is in a great amount of distress. After the organization's leaders come out from their hiding places, they will see the extent of destruction. We understand from intelligence sources that Hamas is in distress," said the IDF spokesperson Brigadier-General Yoav Mordechai.
Within minutes of the announcement of the ceasefire, the IDF said they "have targeted a squad of 'terrorists' preparing to fire rockets at Israel. Hamas lookout positions were also targeted."
Mordechai added that the IDF is "ready and alert" over the fragile truce.
According to the Egypt-brokered ceasefire plan, both parties have cautiously agreed to halt their attacks on each other.
Israel agreed to uphold the ceasefire and pledged to "stop all hostilities on the Gaza Strip, land, sea and air including incursions and targeting of individuals." Hamas has promised to "stop all hostilities from the Gaza Strip against Israel, including rocket attacks and attacks along the border."
The deal has temporarily averted the much-feared ground offensive by Israel which would have further escalated the conflict. A decision on the release of the Israeli reservists is expected on Thursday.
Meanwhile, the United Nations has applauded Cairo's efforts in brokering the ceasefire before admitting that a long-term plan must be drafted.
"But we are all aware of the risk. And we are all aware that there are many details that must be solidified for a broad, durable ceasefire to take firm hold over the longer term. It is imperative that both sides stick to the ceasefire in order to allow these underlying issues to be addressed in a sustainable fashion," UN Secretary General Ban Ki-moon told the UN Security Council during a video conference from Tel Aviv.