Israel Hits Hamas Targets in Gaza Strip Following Teenagers' Deaths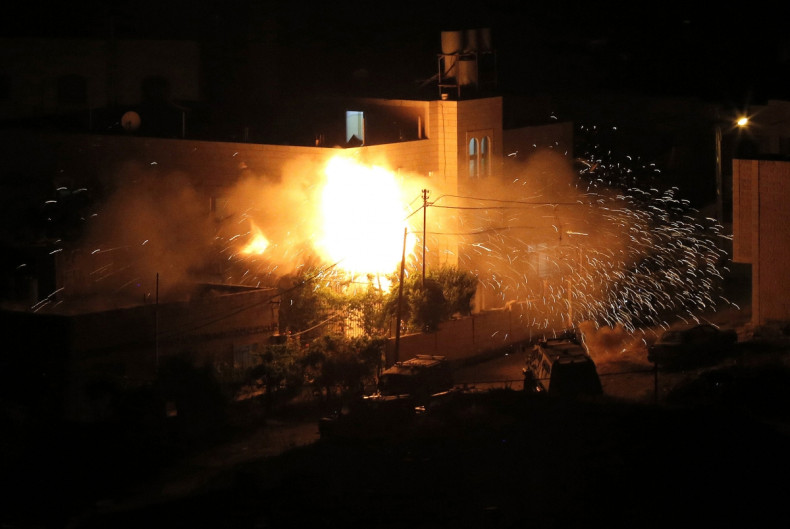 Israel pounded dozens of targets in the Gaza Strip overnight as Prime Minister Benjamin Netanyahu vowed that military action will not be over until those responsible for the murder of three abducted teenagers are found.
Following the discovery of the bodies of the teenagers in the West Bank, the Israeli Defense Forces (IDF) has said the Operation Brother's Keeper is far from over.
The IDF said at least 34 suspected Hamas and Islamic jihadist targets were hit.
An IDF statemet said: "Following over 18 rockets which were fired at Israel since Sunday evening, IAF aircraft carried out a precision strike against 34 targets in the Gaza Strip."
"The IDF will continue to act in order to restore the peaceful living to the civilians of the state of Israel. The Hamas terror organisation and its extensions are solely responsible for any terror activities emanating from the Gaza Strip."
The three young men - Eyal Yifrach, 19, Gil-ad Shaar, 16 and Naftali Fraenkel, 16 – who went missing on 12 June were found dead in Halhul, near Hebron.
Reports from Palestine suggest houses in Beit Lahia suffered heavy damage in the Israeli helicopter bombing.
The Israeli attack was said to be in response to the rocket fire from Hamas.
"We want to make clear that if the silence brought by Operation Pillar of Defence [in 2012] is violated and the shooting continues, there are two options: Either Hamas will stop the rocket fire or we will," said Netanyahu.
Expressing "great sorrow" for the teenagers' deaths, he said they were "kidnapped and murdered in cold blood by animals... Hamas is responsible and Hamas will pay".
The Israeli cabinet is also set to hold an emergency meeting at 09:30am local time in the backdrop of the latest events.