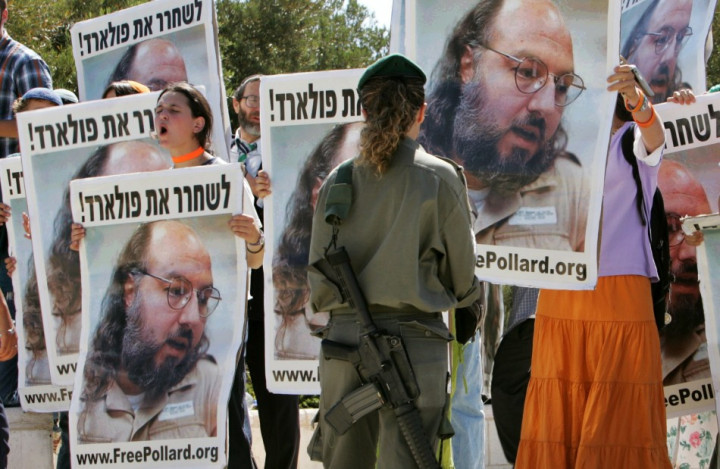 The US has reportedly refused to free a notorious Jewish spy in a prisoner-swap deal which would see Israel release a number of Palestinian prisoners.
Israeli prime minister Binyamin Netanyahu asked US secretary of state John Kerry to release Jonathan Pollard, 58, an American spy serving a life sentence in a North Carolina prison for passing hundreds of classified documents to Israeli intelligence, Channel 2 News reported.
Netanyahu reportedly said the move would help him convince right-wing members of his coalition government to approve the release of some 103 Palestinian prisoners, demanded by Palestinian officials as a goodwill gesture ahead of talks in Washington.
However the argument failed to convince the US government.
Netanyahu's office appeared to confirm Channel 2's report, saying that the Prime Minister "routinely raises the issue" when meeting American officials.
Numerous Israeli Knesset members renewed calls to obtain Pollard's release, after Washington started agitating for a re-launch of Israeli-Palestinian negotiations earlier this month.
"If launching the negotiations is such an interest to the Americans, how can it be that we are releasing terrorist murderers, and they are not releasing our agent who has been sitting in jail for more than 27 years?" Netanyahu's Likud party MK Moshe Feiglin said in The Jerusalem Post.
"What is going on in the minds of Americans when they insist on keeping Jonathan Pollard in prison and demand that Israel free terrorists?" asked minister Uri Ariel, a member of pro-settlement party Jewish Home, in conversation with Israel Radio.
Last week Kerry announced a broad agreement had been reached on the framework for restarting talks, and invited Israeli Justice Minister Tzipi Livni and chief Palestinian negotiator Saeb Erekat to work out details in Washington. Negotiations have stalled since 2008.
Pollard, a former civilian US Navy Intelligence analyst, was arrested in 1985 after the Israeli embassy in Washington refused to give him amnesty. He pleaded guilty to conspiracy to commit espionage in June 1986 and was sentenced to life imprisonment.
His prolonged incarceration outrages many in Israel, as supporters say he is the only person in US judicial history to have been handed such a long sentence for passing classified information to an ally.
Earlier this year, US president Barack Obama was handed by a petition by President Simon Peres demanding Pollard's release signed by more than 200,000 people, including finance minister Yair Lapid.