A15-year-old boy has been killed in the disputed Golan Heights by what Israel claims was a deliberate attack launched from Syria. If confirmed it will be the first such fatality in the area since the civil war began.
The victim, a Palestinian boy from the village of Arraba in Galilee, was apparently with his father and other civilian contractors for Israel's Defence Ministry when there was an explosion. Five other people were seriously injured in the incident near the border town of Tel Hazeka.
Stray mortars have landed on the Heights before and it is still unclear whether the teen was the victim of a roadside bomb or a missile fired from Syria. Israel's defence forces believe it was a deliberate attack and tanks retaliated by firing at Syrian army positions near the Syrian border town of Quneitra. Mark Regev, a spokesman for Israel's Prime Minister Benjamin Netanyahu, told Al Jazeera: "This mortar fire was unprovoked, and we have the right to respond."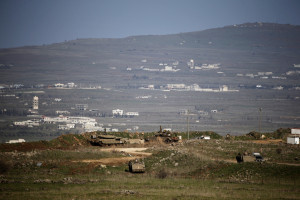 Israel seized the Golan Heights from Syria during the 1967 Six Day War, leading to Syrian residents fleeing the area. Syria attempted to wrest the land back in 1973 but was repelled and the following year the two countries signed an armistice. In 1981 Israel unilaterally annexed the Heights, but their claim to the area is not internationally recognised.
Since the war in Syria began in 2011 there have been several attacks from within Syria but it is unclear whether they are from Syrian forces controlled by Bashar Assad, the Lebanese Hezbollah or al-Qaida militants hostile to both Assad and Israel.
In March, Israel retaliated when four soldiers were injured by a roadside bomb, launching air strikes against the Syrian regime. Israeli officials are said to be concerned that attacks from Syria may increase as the situation within the country deteriorates. It is believed the contractors were working on a fence that Israel has started building along the border.