In a pattern of punishment, Israel's decision to halt the transfer of tax revenues to the Palestinian government for three consecutive months between January and March 2015 has had "devastating consequences for millions of people".
The tax freeze was imposed after Palestine announced it would join the International Criminal Court (ICC) and urged investigations into potential war crimes committed by Israel during 2014's Operation Protective Edge, in which some 2,200 Palestinians were killed.
Between December 2012 and March 2013, Israel also seized tax payments, in response to Palestine's call for a vote to be accorded non-member observer state status at the UN.
Hospitals struggling to function
A report seen by IBTimes UK details the devastating impact on ordinary Palestinians, as the tax revenue freeze has meant the Palestinian Authority (PA) has not been able to cover all of its budget payments - tax revenues make up for 73.5% of the PA's net revenues.
The non-transfer has resulted in delays in paying public-sector salaries in the Occupied Palestinian Territory (OPT), "which have in turn led to social tensions on the ground and public unrest", according to Shawan Jabarin, director of Al-Haq, the Ramallah-based Palestinian human rights organisation behind the report.
"As a result of the seized tax revenue, hospitals and schools have not received essential funding and have been unable to properly function, with staff experiencing massive salary cuts and often struggling to travel to work," Jabarin said.
Indeed, 90.1% of the PA's expenditure is directed to essential services for the Palestinian population, with 18.4% of that spending is dedicated to education and 13.1% to healthcare.
Families can no longer afford food
Families dependent on income from public sector salaries "have not been able to buy enough food or afford their children's education", Jabarin said.
The report shows the PA dedicates over half of its expenditure to paying salaries of some 215,000 public sector employees like Mohammed Feisal Said Yihya, a secondary school teacher in the Jenin governorate nestled in the very tip of the northern West Bank.
"My life has turned to hell after salaries were almost completely cut off. For three months I have not been able to buy fruit and meat for my family."
- Mohammed Feisal Said Yihya
Yihya, who is the sole provider for his family of nine explains how he is suffering from "disrupted salary payments", such as receiving only "one salary in instalments at two long intervals".
"[My life] has turned to hell after salaries were almost completely cut off. For three months I have not been able to buy fruit and meat for my family. I can hardly afford the price of electricity, water and flour," Yihya said, adding his mental condition has deteriorated as his debts have been piling up.
The boys school teacher highlighted the fact this struggle, faced by 4,600 teachers, has negatively affected their capacity to teach classes to students, "which in turns will reflect on their educational attainment".
Small businesses facing financial deficit

The withholding of public funds has also caused massive damage in a very short space of time for businesses in the OPT.
A clothing shop owner in the centre of Jenin city, and who is now in financial deficit, said: "Everybody suffers from a notable recession."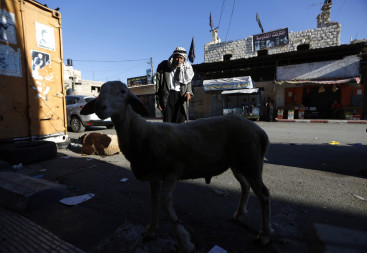 "Employees and their families can no longer buy clothes because they don't have money to buy them. These used to generate around 70% of my commercial shop's income," explained Ja'far Rashed Ahmed Nawahdhah, who says he personally relies on customers employed by the government as well as their children to make a living.
"In light of this difficult economic situation, I have had to sell goods on credit."
Nawahdhah goes on to explain his situation is similar to "many owners of commercial shops" in his town as turnover has remarkably declined for private sector enterprises.
On 27 March, Israel Prime Minister Benjamin Netanyahu greenlighted the release of tax revenue transfers to the PA in Ramallah out of "humanitarian considerations".
The Israeli government, however, stated that it would keep a proportion of this cash to pay down "debts" to the state for services provided by Israeli entities, including the Israel Electricity Corporation, the water authority and hospitals, which Al-Haq has described as "illegitimate".