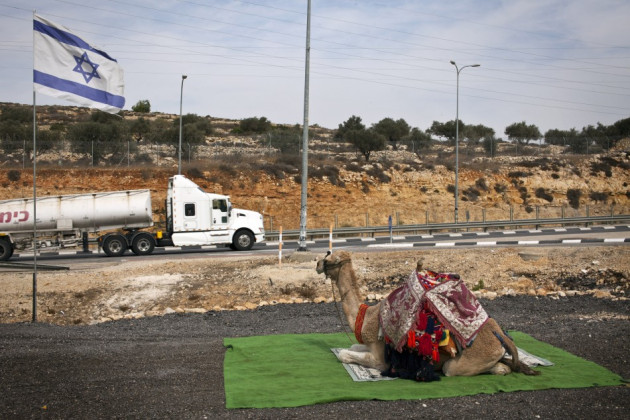 Israel's foreign ministry has condemned a decision by the EU to classify parts of the Modiin-Maccabim-Reut area as "settlements" not entitled to European tariff exemptions.
Manufactured products will not be allowed duty-free access to Europe.
Israeli officials fear that the "unilateral" move would encourage a European ban on products made in the city of 75,000 people.
"For anyone who deals in reality, there is not the slightest doubt that the Modiin, Maccabim and Reut localities are an integral part of Israel, and their future is not in question," the ministry said.
"People in Europe will see the list, and tell themselves there's no reason to get involved - so they won't invest, and they won't buy goods from there," another foreign ministry official told Haaretz. "At this point some might even call for a general boycott of all goods from Modiin, and then from all Israeli goods - it's a slippery slope."
Unnamed foreign ministry sources and officials cited by Haaretz and the Jerusalem Post claim that the move was the result of rising pressure from anti-Zionist NGOs and pro-Palestinian politicians in Brussels.
An economic agreement between Israel and the EU, signed in 2005, was set to create a free trade zone between the two.
Under the agreement, only products originating from inside the 1967 Green Line would be subject to tax exemptions.
Before the changes, only zip codes were listed, and the list was internal and shared only with customs-supervising authorities.
Israel foreign ministry claim the EU suddenly dropped months-long consultations with the country's Ministry of Industry, Trade and Labour and unilaterally included the towns of Modiin, Maccabim and Reut in the list.
"The negotiations were hijacked by the EU parliament and political pressure that came from some EU capitals," said an unnamed official.
The area is considered a "no man's land" between Israel and the West Bank as it was left without an owner after the end of the War of Independence in 1948.
Even Palestinians do not claim the narrow ribbon of land, officials said.
An EU official responded that everything not inside the Green Line was "not considered part of the state of Israel" for the EU-Israel free trade agreement.
A spokesman for the EU told AFP there would be no immediate comment on Israel's condemnation of the new list.
Israel's opponents have sought to galvanise a trade boycott movement against the Jewish state - along the lines of similar campaigns that targeted apartheid South Africa in the 1980s. Particularly, thay have sort to identify agricultural products and goods produced by Jewish settlements in the West Bank, occupied by Israel after the 1967 Six Day War.