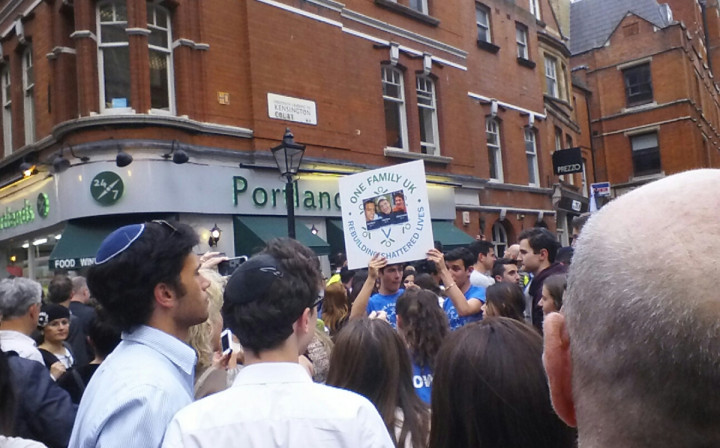 A vigil has been held outside the Israeli Embassy in London this evening (2 July) following the murders of three Israeli teenagers.
The Israeli military discovered the corpses of 16-year-olds Naftali Frenkel, Gilad Shaar and 19-year-old Eyal Yifrach near the village of Halhul, north of Hebron, not far from where they disappeared on 12 June.
Over 750 members of the Israeli community in the UK gathered outside the embassy in Kensington in a peaceful vigil for the young victims.
Wielding placards and flags, the crowd sang Hebrew hymns and the Israeli national anthem 'Hatikvah'.
Israeli Ambassador for the UK, Daniel Taub, addressed the gathering and a two-minute silence was held for the victims.
Religious leaders offered prayers and called for unity in the face of escalating tensions.
Addressing the crowd, Chief Rabbi Ephraim Mirvis said: "What happened to them was simply horrific. The people of Israel have conducted themselves with immense and deep dignity.
"We have joined together with the people of Israel in absolute unity. Sometimes our foes cause us to do things we don't wish to do. We must defend our people and safeguard the security of our nation. We are at one with the families and are inspired by them."
Dermot Kehoe, chief executive of the Britain Israel Communications and Research Centre (Bicom) warned against reprisals for the murders after a Palestinian teen was kidnapped and killed in an apparent revenge attack.
Kehoe said: "The situation at the moment is pretty grim, the tension is palpable, and this is about who the Israeli people are. Israel needs to show some clear leadership. This is the chance for Israel to show its character.
"Someone said blood is blood, and the last thing Israel or Palestine need is a cycle of violence. There is no excuse for the murders of this people, but this is an opportunity for the Israelis and Palestinians to make a choice not to repeat this.
"Both cases are murder, no society can tolerate that. The fear of a cycle of violence is real, it's the last thing they need. Israel's security is best served by ensuring the cycle of violence is broken."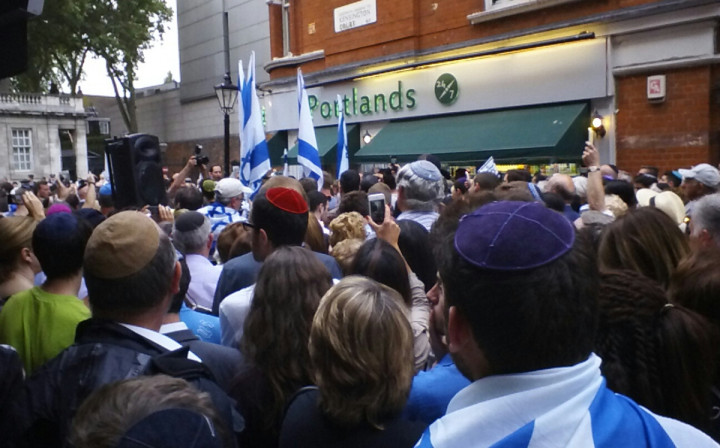 Israeli Prime Minister Benjamin Netanyahu has blamed Hamas for the three teenagers' deaths.
Israeli domestic security agency Shin Bet named the two principal suspects as Marwan Kawasmeh and Amer Abu Eisheh, two extremists from the Hebron area.
The murders and the government's large military response have escalated tensions between Israelis and Palestinians