Israeli blogger sparks outrage after posing for picture at holy Saudi mosque
The 31-year-old blogger has travelled extensively across the Middle East.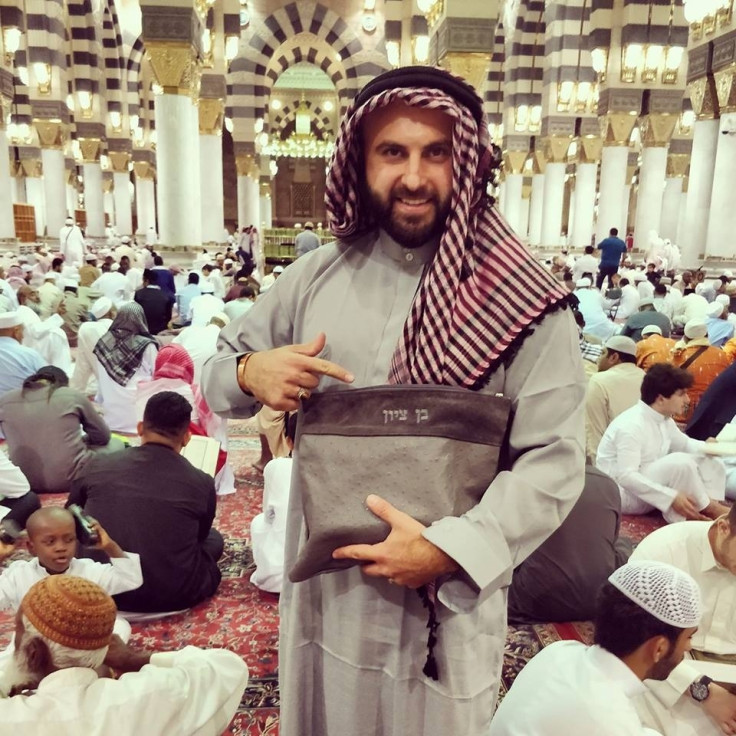 An Israeli blogger has provoked outrage across the Middle East by posing for a picture at one of Islam's holiest sites.
Ben Tzion, a 31-year-old writer for the Times of Israel, had his picture taken at Medina's Mosque of the Prophet Muhammed. Russian-born Tzion was on a tour of the the country, having been invited to Misk Global Forum in the Saudi capital Riyadh.
The photo was uploaded to his now-deleted Instagram account last week (November 14) and has been shared thousands of times by offended Muslims using the caption: 'Zionist in the Prophet's Mosque".
In the image, Tzion is shown dressed in traditional Arabic dress with a message in Hebrew written on a satchel. The caption to his original post read:
"Jewish and Arab people share common history and blood lineage to Abraham/Ibrahim. With love and mutual respect, peace would come to the entire Middle East region."
The Prophet's Mosque, along with Mecca's Great Mosque, are holy sanctuary, sites meaning non-Muslims are not generally allowed to enter.
Tzion says he was not prevented from gaining access to the site when he arrived. Tzion has travelled all over the Islamic world, including a visit to Iran, a nation that does not issue visas to Israelis.
"No-one in the Arab world ever approached me with hostility," he said. "They tell me they love Israel and the Jewish people."
Some have strongly criticised what they regard as the blogger's provocative stunt and have also criticised the Saudi government's hypocritical stance towards Israel.
"Wow just wow. Honestly wth are you playing at Saudi? Is this some sort of a sick joke that I'm just not understanding?", one wrote online.
"The scholars are in prisons and the Zionists are at the Prophet's Mosque. It is a sad thing,"
said one Twitter user in Arabic.
The Saudi government has not yet commented on the incident. Although the two nations do not have officially open diplomatic channels, informal ties between Israel and Saudi Arabia have been growing closer as they face the threat of growing Iranian influence.