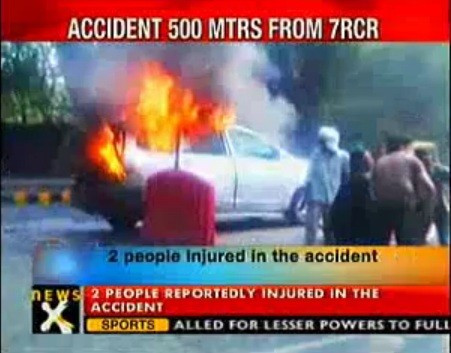 The car of an Israeli diplomat has exploded in New Delhi, injuring one person, officials said.
The explosion took place close to the Israeli embassy in New Delhi, embassy spokesman David Goldfarb said.
The person injured in the blast has not yet been identified.
Israeli Foreign Ministry spokesperson, Yigal Palmor, said he could not provide more information on the identity of the person or the extent of the injuries as the incident was a security matter.
"We are looking into the incident and cooperation with local security forces is excellent," AP quoted Palmor as saying.
The ministry said Israel thwarted a similar attack on an Israeli Embassy vehicle in Tbilisi, the capital of Georgia. The bomb was discovered before it went off.
Other reports however suggest that up to four people have been injured in the incident and rushed to hospital.
It is not yet known if the car was especially targeted but witnesses said the vehicle, a minivan with diplomatic plates, went up in flames after it exploded.