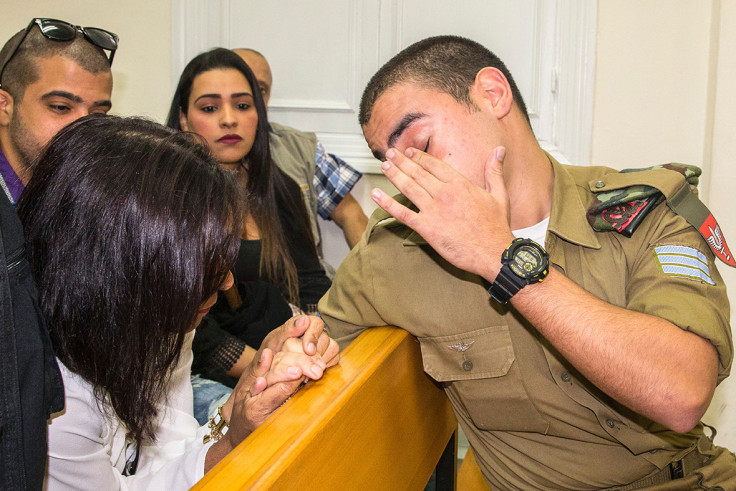 A military court in Israel will deliver its verdict on Wednesday (4 January) in the case of Sergeant Elor Azaria, who has been charged with manslaughter for killing an injured Palestinian assailant in March 2016. Abdul Fatah al-Sharif, a Palestinian man had stabbed an Israeli soldier, even though he was soon wounded by Israeli soldiers in retaliation, Azaria allegedly shot and killed him.
The 20-year-old soldier shot Sharif in the head in the West Bank city of Hebron. According to Haaretz, the military supported the move to put Azaria on trial, but right wing politicians and many citizens are opposed to the case and want the accused to be exonerated.
Lieutenant-General Gadi Eisenkot, chief of staff said on 3 January, "An 18-year-old man in the Israeli army is not everyone's child." He admitted that "lively dialogue among the public and on the internet" was necessary, but noted that the army was not elected by the public nor is it shaped by popular surveys.
Israeli human rights activists and Palestinians have argued that the case highlighted the use of excessive force to stop attacks on Israeli personnel and accused the sergeant of carrying out an extra judicial killing.
The shooting, which was recorded on video by a Palestinian human rights activist and distributed to media outlets, gained international attention, as it occurred when there was a wave of Palestinian stabbings.
Meanwhile, prosecutors in their indictment said that Azaria had "violated the rules of engagement without operational justification as the terrorist was lying on the ground wounded and represented no immediate threat".
On 24 March, Sharif and another Palestinian assailant Ramzi Aziz al-Qasrawi had stabbed an Israeli soldier before troops fired at them killing Qasrawi and wounding the former.
But Azaria, who was standing a few metres away, shot at Sharif. The soldier later defended himself and said that the knife used by the Palestinian man was within his reach and that he suspected Sharif to be wearing an explosive vest.
However, army investigators said that Azaria had told a colleague that the injured man deserved to die. Manslaughter charges carry up to 20 years of prison term, but legal observers said that he could potentially get a sentence of four to five years if found guilty.