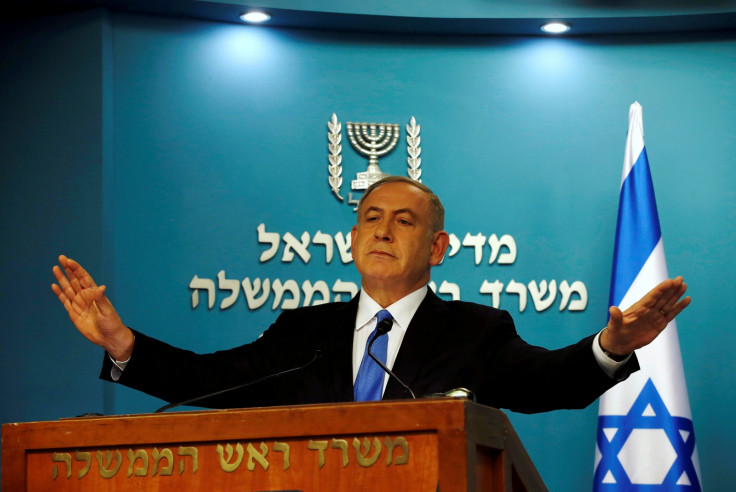 Benjamin Netanyahu is being questioned by police over allegations of corruption, including claims that he accepted two expensive gifts from two businessmen, Israeli media have reported.
The Israeli prime minister is facing questioning under caution over the claims, which centre around whether the gifts were given with the expectation of any 'quid pro quo'.
Israel's Channel 2 TV reported that he has accepted "favours" from businessmen in Israel and abroad.
The Haaretz daily said the investigation, which has lasted eight months so far, is looking into allegations that Netanyahu accepted €1m (£850,000) from Arnaud Mimran, a French businessman who was jailed for eight years for carbon-tax fraud.
Netanyahu is also facing claims over a deal to purchase submarines from a German company, ThyssenKrupp, which has a relationship with his personal counsel, David Shimron. Netanyahu said the goal of the deal was to boost the security of Israel.
Channel 10 TV further reported that Australian billionaire James Packer gave Netanyahu's son, Yair, free trips and other gifts.
However, Netanyahu has described the claims as "baseless" and told a meeting of his Likud party: "We've been paying attention to reports in the media. We are hearing the celebratory mood and the atmosphere in the television studios and the corridors of the opposition, and I would like to tell them: 'Stop with the celebrations, don't rush.'
"There won't be anything because there is nothing," Associated Press reports him as saying.
Netanyahu has been under fire over several scandals recently, involving his personal spending levels and claims of a misuse of state funds. He and his wife, Sara, have always maintained that the former claims are politically motivated.
Yair Lapid, whose Yesh Atid party is Likud's biggest rival, said the probe needed to be concluded quickly, unlike the investigation that eventually jailed Netanyahu's predecessor, Ehud Olmert.
Lapid said: "If two prime ministers in a row fall from office because of corruption, it will be very hard to rehabilitate the public's trust in its leadership. I want to remind the members of the opposition and the media that the presumption of innocence applies to every Israeli, including the prime minister. We need to let the police do their work."