Israeli PM Netanyahu hails arrival of US-made F-35 fighter jets: Our long arm now longer and mightier
Two Lockheed Martin jets arrived at Israel's Nevatim air base in the southern Negev desert on 12 December.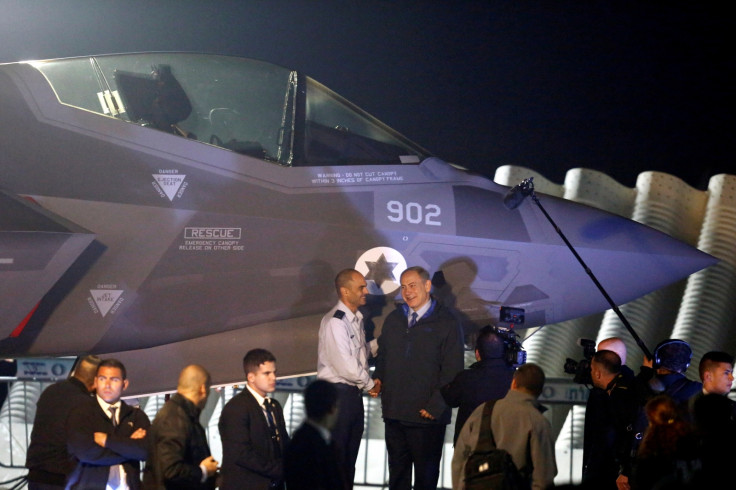 Israeli Prime Minister Benjamin Netanyahu said that the country's "long arm" has now become even "longer and mightier" after receiving two US-made F-35 stealth jets on Monday (12 December). The two fighter jets are part of 50 jets ordered by Israel to beef up its air security.
Netanyahu and US Defense Secretary Ash Carter were present at Nevatim air base in the southern Negev desert, where the two Lockheed Martin jets arrived, following a delayed departure from Italy due to fog.
Carter said the $100m (£79m) aircraft were crucial for Israel to maintain their military edge in the region. However, US President-elect Donald Trump criticised Israel's purchase of the jets, saying: "The F-35 program and cost is out of control." He also tweeted that such expenses on the military would be cut down after he assumes the White House on 20 January, 2017.
Trump's tweet on the F-35 programme — regarded as one of Pentagon's largest weapons project — led to a 4% decline in Lockheed Martin's shares, Reuters reported.
Jeff Babione, Lockheed Martin's F-35 programme leader, said he was ready to face Trump's questions on the project and its costs. He also said that the company and its industry partners understood concerns about the affordability of the ambitious project.
According to Reuters, Israel currently has US-built F-15s and F-16s in its air force. The country ordered the 50 F-35 jets in a $38bn arms deal finalised earlier in the year. The F-35 jets are reportedly capable of accurately hitting targets and flying a more direct route to its target. Some critics, however, said the jets' weapons payload capacity and range are shorter than the jets Israel already has.
Israel reportedly plans to induct two F-35 squadrons, with Lieutenant Colonel Yotam leading one of them. Yotam is also the first person to fly the plane for Israel.
He told CNN that the F-35's stealth capabilities widen their operational theatre. "It allows us to bring into action many abilities that are needed from the air force for superiority. It allows us to undertake missions that today would demand a lot of planes and platforms to utilize.
"The F-35 is built to deal with a lot of threats on the ground. It knows how to deal with everything of interest to the Israel Defense Forces outside the borders of Israel," Yotam added.
© Copyright IBTimes 2023. All rights reserved.