Israel's barbaric occupation and endless violence towards Palestinians knows no bounds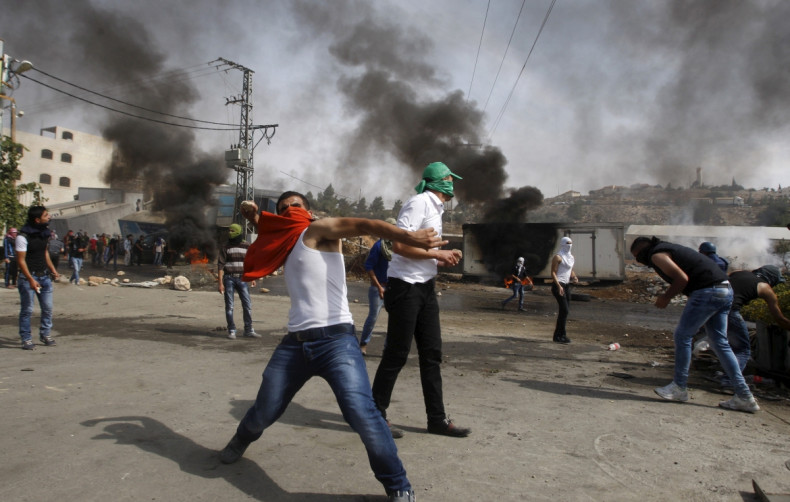 Israeli embassy spokesperson Yiftah Curiel accuses the British media of "callousness towards innocent Israelis' lives." As ever, when it comes to claims of "anti-Israel" bias in the media, the evidence is flimsy, consisting mainly of supposedly inaccurate headlines.
I welcome Curiel's focus on "clear and simple [facts]", and so here is a (partial) summary of significant acts of violence, violations of international law and human rights abuses conducted this month not by private individuals, but by the Israeli government and its armed forces.
According to the United Nations (UN), between October 1-26, 58 Palestinians – including assailants, alleged assailants and protesters – were killed by Israeli forces, and 6,445 injured. In one week, Israeli forces injured more than 1,200 Palestinians, "the vast majority in protests and confrontations".
Across the West Bank and Gaza Strip, unarmed youth protesting a 48-year-long military regime have been gunned down by heavily armed soldiers. Since 1 October, Israeli forces have injured some 900 Palestinians with live fire and more than 800 with rubber-coated metal bullets.
Palestinians killed this month by Israel include 13-year-old Abd Al-Rahman, shot in the chest as he stood with friends in Aida refugee camp in Bethlehem. Less than a week later, an Israeli soldier killed another 13-year-old boy, Ahmad Sharaka, with a bullet to the neck.
Despite Curiel's apparent concern for Palestinians in Gaza (who, he wrote, "suffer under Hamas"), he omitted how, on 11 October, the Israel air force bombed the home of a Palestinian farmer, killing his pregnant wife and daughter. An Israeli army spokesperson claimed "weapon production sites" were hit.
Meanwhile, Israeli human-rights groups have condemned "a worrying trend to use firearms to kill Palestinians who have attacked Israelis or are suspected of such attacks", noting that "in instances when Jews have been suspected of attacks, none of the suspects has been shot".
Israel has imposed more than 30 obstacles to Palestinian freedom of movement in Occupied East Jerusalem, in measures described by an Amnesty International researcher as "collective punishment" – illegal under international law. Checkpoint delays have already proved fatal.
Curiel's Israeli government has also pursued a policy of punitive house demolitions, described in an Israeli newspaper today as "organised barbarity". On 6 October, Israeli forces blew up two homes in East Jerusalem; the blasts destroyed two adjacent apartments that were home to 11 people, including seven children.
This "toolbox of repression" might shock – but Israeli occupation, colonialism and apartheid continues, day after day, whether there is media coverage or not. It is not even a question of poor headlines – the Palestinian's daily reality typically doesn't generate any headlines.
Take August, for example, when three Palestinians were killed and 195 injured, more than 300 were arrested, Gaza civilians were shot at and detained, and Israel demolished 145 Palestinian-owned structures. How much British media coverage did this generate?
Curiel is angry that a British television presenter asked Jerusalem mayor Nir Barkat if his call for Israelis to carry guns wasn't "excessive". But Barkat's remarks were criticised even in the Israeli media – does the embassy spokesperson want less of a debate in the UK than exists in Israel?
Curiel also claimed that Palestinian attackers have been "motivated by religious incitement and lies" concerning Al-Aqsa Mosque compound. Yet, as one Israeli organisation put it, "the feeling among Palestinians that Israel is changing the status quo in the area" is actually "backed up by police data".
On the issue of incitement, Israel's justice minister recently declared: "We are against a Palestinian state. There is not and never will be a Palestinian state" – a sentiment shared by cabinet colleagues.
It is true that the Western media's coverage of events in Palestine/Israel is often poor. Three common flaws are decontextualisation (such as no mention of occupation), inaccurate framing (the idea that there are two equal sides) and the omission of the daily reality of Palestinians' lives.
Israel is an occupying power, controlling the lives of millions of Palestinians. Israeli occupation forces conduct nightly raids of Palestinian homes – not the other way round. Israel maintains and expands a network of illegal settlements on Palestinian land – not the other way round.
Most of the time, Western media coverage omits this critical dynamic and masks the asymmetry. When it doesn't, then it is simply doing its job − to reflect the reality on the ground.
---
Ben White (benwhite.org.uk) is a journalist, researcher and author of 'Israeli Apartheid: A Beginner's Guide' and 'Palestinians in Israel'. This is a reply to Yiftah Curiel's article here.
---