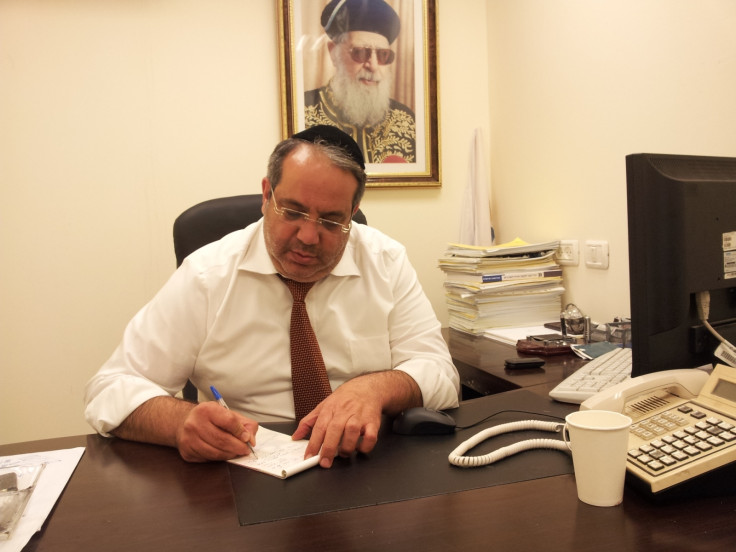 An ultra-Orthodox Jewish lawmaker who came under fire for attending his gay nephew's wedding has resigned from Israel's parliament.
Yigal Guetta, from the religious Shas party, announced on Wednesday (13 September) he would be leaving the Knesset.
His departure comes after rabbis published a letter criticising Guetta's decision to attend his nephew's same-sex marriage ceremony, calling it a "public desecration of Heaven".
The rabbis demanded the leaders of the Shas party remove and fire him immediately.
The letter was published after Guetta, 51, had given an interview to Army Radio on Sunday (10 September), in which he told of how he had handled the news that his nephew is gay.
"[My nephew] said he wanted my blessing [for the marriage]," Guetta said.
"I told him I don't understand about such things. And he told me that he's gay and that he's marrying a man. So I told him that now I understand even less."
But the news didn't dissuade him from attending the ceremony.
"My entire family went to the wedding," he continued. "I usually don't tell my kids to what events they should go, but this time I told them attendance was mandatory. We all went so we could make him very happy.
"Beforehand, I told my kids: 'We're going to make him happy because he's my sister's son and I want him to be happy, but I want you to know that according to the Torah this [wedding] is forbidden and an abomination. I have no leeway on this."
The revelations caused anger among some quarters in the ultra-Orthodox community, where same-sex relations are taboo.
On Monday, five rabbis – Ben Zion Mutzafi, Moshe Tzedaka, Aharon Yirhi, Moshe Ohanona and Avner Marciano – published a scathing letter criticising Guetta's decision to attend the ceremony.
They wrote: "So-and-so told his entire family that they were required to attend the 'wedding' of his nephew, which is a terrible prohibition, among the most severe in the Torah."
The rabbis went on to urge the public to "call and cry out to all the leaders [of Shas] to not endorse this terrible desecration of God's blessed name and to remove and fire [Guetta] immediately from his public position to a position that has no public role, and to advertise the fact of his firing".
Source close to Guetta said the lawmaker had refused to apologise and decided to leave before being requested to do so by the party.
Following news of the resignation, lawmakers from centrist and left-wing parties condemned Guetta's treatment.
Yesh Atid party chairman Yair Lapid wrote on Twitter: "Guetta is an excellent MK and a friend. It's sad that in Israel in 2017, a Knesset member is forced to resign because he attended a wedding of two people who love each other."
Zehava Galon, chairwoman of the Meretz party, called for his reinstatement.
She said: "MK Guetta made a simple human gesture and went to support his nephew at his wedding. The pressure to dismiss him is a disgrace to Shas, and I hope they come to their senses and give him his job back."
Israel accepts gay people serving openly in its military and Tel Aviv is a popular gay-friendly destination.
But among the country's conservative ultra-Orthodox community, homosexuality is considered a sin and publicly shunned.