Roger Federer and Rafael Nadal have been backed to continue playing together following the success of the inaugural Laver Cup.
The duo teamed up for doubles action with each other for the first time in their careers as they defeated Team World pairing Jack Sock and Sam Querrey en route to helping Team Europe win the event.
In what was undoubtedly the standout attraction in Prague, fans got to see the two tennis legends on the same side for once as both players reflected on their experience of sharing the court with each other.
"For me personally it was a great moment – we have only ever practised once together," Federer said. "It was back at the world tour finals."
"We don't practise a lot we don't show stuff to each other. We will always forever be rivals as long as we're active. This was something very special.
"It's been an absolute pleasure sharing the court with Rafa. Being on the same side of the net you know you can trust him in the big moments. Seeing his decision making and his thought process was very interesting."
World number one Nadal returned the favour by stating how delighted he was to have played alongside the 19-time Grand Slam champion: "After all the history that we had behind us as rivals it was great to be on the same side of the court fighting for a team it was something we enjoyed a lot."
"The atmosphere for the whole match and during the weekend was fantastic."
With their singles careers coming back into focus, fans will have to wait at least until next year's Laver Cup in Chicago to see them partner up again.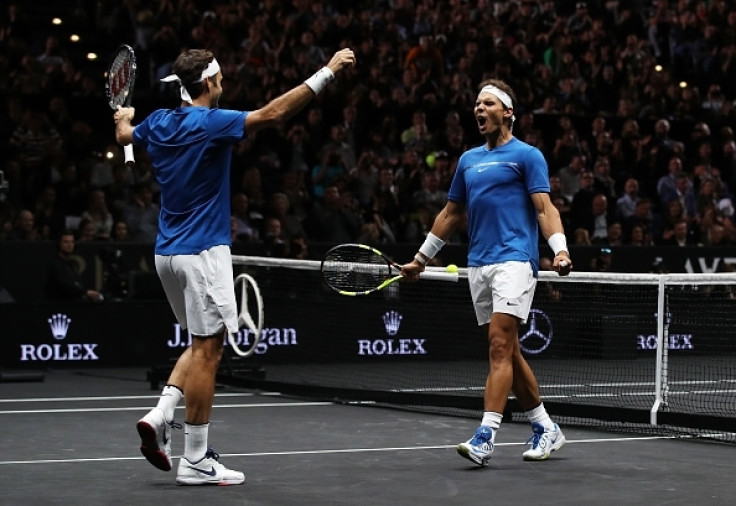 And despite the duo praising each other, both players ruled out a future as doubles partners outside the Laver Cup.
However, Toni Nadal, uncle and coach of Rafael, believes it would be beneficial for tennis if they continued as a team in the future.
"I think for tennis it was very good," Toni told Efe Radio, as quoted on Metro. "Federer and Nadal, like Real Madrid and Barcelona, made the popularity of tennis increase."
"It would be good for tennis to see them play together again, but at the moment both of them are focused on singles."
For now, Nadal will be looking to cement his place as world number one and end the year at the summit of the ATP rankings for the first time since 2013.
As for number two-ranked Federer, it is still possible for him to overtake the Spaniard this year, however, it seems an unlikely task with the Swiss ace currently lagging nearly 2,000 points behind.