The EU and UK must avoid "destructive" Brexit talks, Italian Prime Minister Paolo Gentiloni said after a summit with Theresa May in London on Thursday (9 February).
"We are aware of the fact negotiations will not be easy and we also know – and this will certainly be the Italian attitude – that we need to show a constructive and friendly approach," he told reporters.
"There is absolutely no point in having a destructive negotiation between the EU and the UK. We will do this in the hope of fostering the unity of the 27 countries because without the unity of the 27 countries it will be difficult to come to some agreement."
Gentiloni had originally planned to meet with May in January, but he was forced to undergo emergency heart surgery to unblock clogged blood vessel. The former journalist, 62, succeeded Matteo Renzi in December.
May revealed the pair talked about the "importance" the leaders placed on trade between their nations. "The UK is Italy's seventh largest export market for goods, worth over €22bn (£18.7bn) a year, and we do vital business in agriculture, manufacturing, pharmaceuticals and defence," the prime minister said.
"For example, already this year the UK Government has signed a £271m deal with Leonardo Helicopters to provide maintenance for our Wildcat helicopters, protecting hundreds of skilled jobs in Yeovil.
"And together with other free trade deals we intend to do, I am determined that a Global Britain will be a great champion of free trade in a way that can only be good for British and Italian businesses and jobs."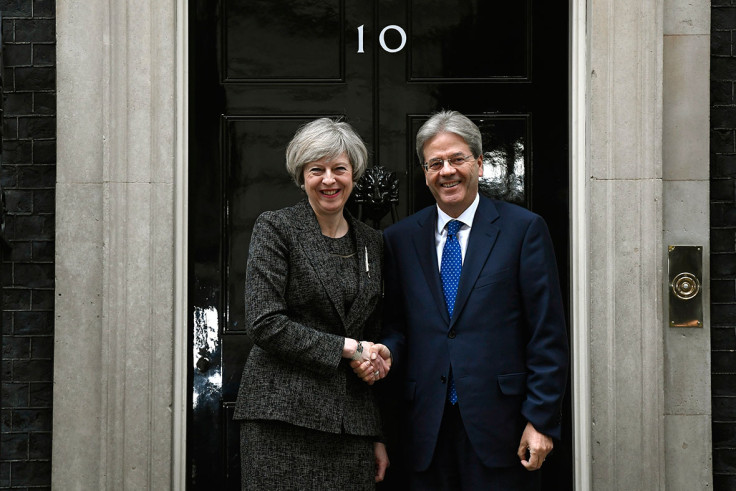 The comments come a day after May secured a major victory in the House of Commons as MPs backed the third reading of the Article 50 bill by 494 votes to 122. The draft legislation, needed to trigger Brexit talks, will now proceed to the House of Lords.
The government is hoping to pass the bill through parliament by 7 March and commence negotiations with the EU on 9 March.
May added: "Britain and Italy will continue to work together closely and I hope that through Italy's G7 presidency we can shape a new approach to managing mass population movements that is in the interests of all those involved.
"We must also do everything possible to protect men, women and children from trafficking, sexual violence and labour exploitation.
"And I am grateful that Italy has put modern slavery on the G7 agenda for the first time and hope that we can enhance the joint working between our law enforcement agencies to cultivate a new radical, global and co-ordinated approach to defeat this vile crime that runs counter to our deepest values."
Theresa May's 12-point Brexit plan
Government will provide certainty and clarity to politicians and businesses
UK will "control our own laws" by quitting the European Court of Justice
Strengthen the "precious union" between England, Wales, Northern Ireland and Scotland
There will be no "hard border" between Northern Ireland and the Republic of Ireland
UK will "control" EU immigration, while recruiting the "brightest and the best" from around the world
Government will seek a reciprocal residency rights deal for EU and UK workers "as soon as possible"
To protect workers' rights
Ministers will seek a "bold" and "comprehensive" free trade agreement with the EU
UK will seek a customs agreement so that it can broker its own trade deals with non-EU nations
Maintain European science and innovation ties in bid to keep the UK a "world leader"
UK will continue to work with the EU to combat the threat of terrorism
Ministers will seek to avoid a 'cliff edge' and seek a smooth split from the EU