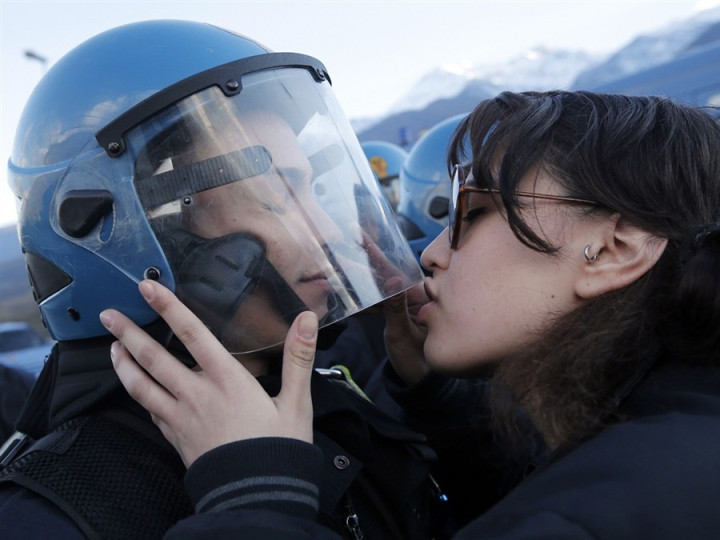 A protester who kissed a riot officer's protective visor has been accused by the police of sexual harassment.
Nina De Chiffre, 20, was photographed kissing the policeman's visor during a demonstration near Turin in November, while protesting against a new high-speed rail link, the TAV, between Italy and France.
The kiss was initially seen as a playful gesture. De Chiffre told the Italian newspaper La Stampa: "I wanted to make fun of them [the police], and I would say that we were successful."
Franco Maccari, the secretary general of the Italian police officers' union, said during an interview on the Italian station Radio24 that he had pressed charges against De Chiffre for sexual violence and insulting a police officer.
If events had occurred the other way round, with a police officer kissing a protester, "World War Three would have broken out" Maccari added.
De Chiffre, however, accused the Italian police of excessive violence against demonstrators during previous protests. She told La Repubblica in November: "I wanted that policeman to remember what happened to Marta from Pisa. Last July, she was beaten, with no consequences for the officers." De Chiffre was referring to a female activist from the 'No TAV' group, who reported harassment and humiliation from police following a demonstration.
The officer involved, riot officer Salvatore Piccione, seemed less angered by the incident, saying: "When I'm wearing my uniform I represent the police institution, and I have an obligation not to react to provocation. The important thing is that, in the end, the demonstration went ahead without disturbance."
Construction of the high-speed line, which will reduce the journey time from Milan to Paris from seven to four hours, has already begun, despite objections and protests by campaigners who argue the countries' troubled economies cannot afford to build the link.