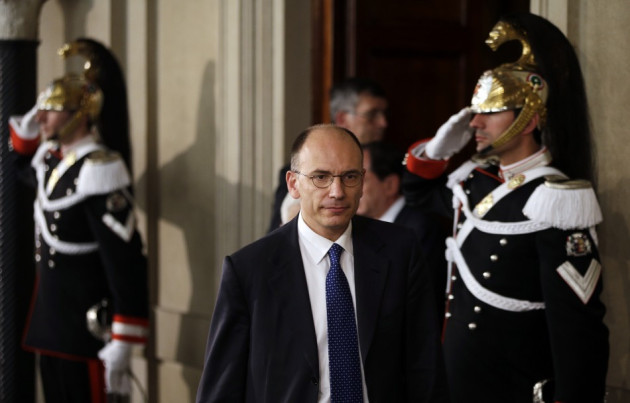 Italy's coalition government will plough ahead and agree on a number of unpopular tax reforms after disagreements between politicians threatened to derail the government's stability.
In an official statement, the fragile coalition said it had agreed to iron out policy measures on housing and sales taxes, in order to get the country's economy back on track.
The coalition's economic working group added that, in its Monday meeting, it had decided to stick to its timetable to reform the levy by August this year.
"The meeting has allowed us to identify a working method that ensures that shared policy decisions will be made in the coming months," said the statement said, without going into further detail.
Earlier in May, the government decided to push back the June payment of the levy on first homes until the end of the year. In addition, a scheduled value-added tax increase was postponed to October from July.
Opinion Clash
Over the last month, reports surfaced that the Italian government would delay tax reforms as politicians from different parties disagreed over the 2014 budget.
Since the left-right coalition was formed in April this year, politicians' disagreements over tax policy has led to a steady decline in public support.
Prime Minister Enrico Letta is continually under pressure from his centre-right partners to cut taxes for everyone, not just low earners, while the European Union is forcing Italy to adhere to strict taxation limits.
Despite being bitter rivals, Letta's centre-left Democratic Party and four-time Prime Minister Silvio Berlusconi's centre-right People of Freedom agreed to form a coalition in April in a desperate bid to break a political deadlock.
The government's initial task was to stimulate growth without pushing up deficit spending.
Italy has a huge debt, which exceeds its annual output, and is therefore under the EU's scanner to ensure it does not go beyond its budget limits.
Berlusconi and his party believe that the government's survival depends on the abolition of the property tax.
On the other hand, Letta has called for only scraping the tax for low-earners.
The country is estimated to have an annual cost of about €8bn ($10.51bn, £6.88bn) for eliminating the property tax. A complete elimination of the property tax would result in a big revenue shortfall.