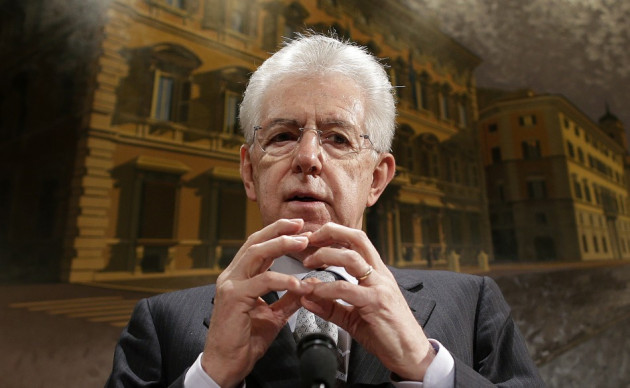 The chaos that has overshadowed Italian politics for the last few months is finally settling, as the country's major parties respond to Prime Minister Mario Monti's decision to run for a second term.
Monti has ended months of speculation and uncertainty by saying he is to head a coalition of parties under the provisional emblem Monti's Agenda for Italy, in the elections to be held at the end of February.
Monti's Agenda for Italy is supported by longstanding Italian centrist party the Union of Christian and Centre Democrats (UDC) and other breakaway factions from former prime minister Silvio Berlusconi's People of Freedom (PDL) party.
Publicly backed by the Vatican, Monti's new political creature cuts off both the PDL and centre-left Democratic Party (PD) party, and places itself in the middle of Italy's previously bipolar political scenario to create a three-way contest.
"The traditional split between left and right has historic and symbolic value, but does not highlight the real alliance that Italy needs - one that focuses on Europe, and on reforms," Monti said.
Appointed in 2011 to guide Italy out of the financial crisis, Monti ruled with the parliamentary backing of both the PD and PDL until Berlusconi decided to withdraw support earlier this month.
Known as the professor and previously seen as detached from Italy's partisan political structure, Monti has forced both Berlusconi and PD leader Pier Luigi Bersani to rearrange their political line.
Both Berlusconi and Bersani have previously courted Monti, for the austere former economics lecturer is popular with a broad cross-section of the Italian population, particularly in the business and industrial environment.
Berlusconi
Berlusconi's statements on Monti have often been contradictory, praising the professor one day and describing his government's work as "disastrous" the next. Monti's final refusal to lead a coalition containing the media tycoon eventually prompted Berlusconi to abandon his attempts to curry favour with the prime minister, and resort to a concerted campaign of condemnation.
Berlusconi said the possibility of a new Monti term is a "nightmare"; accused him and President Giorgio Napolitano of "conspiracy" over his government's fall in 2011; declared he will launch an inquiry on the matter if elected PM; and described two of Monti's allies, UDC leader Pier Ferdinando Casini and former ally Gianfranco Fini, as "the worst people I've ever met in politics".
Berlusconi then started to redraw his historic alliance with the Northern League party - which has always opposed Monti - and predicted a future government alliance between Monti and the political left to gain right-leaning votes.
"This grouping [Monti's Agenda for Italy] has been formed to favor the left - also the similarities with the left's programme points in this direction," Berlusconi told journalists.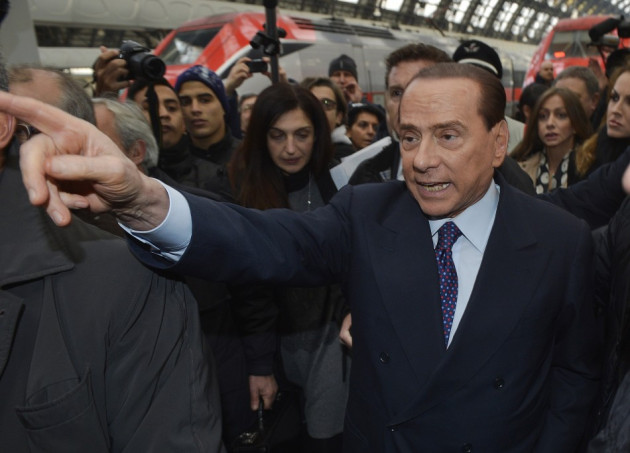 Bersani
An alliance with Monti, with the long-term aim of a stable and lasting government, is actually thought to be Bersani's idea.
According to a recent poll by Cise/Il Sole 24 Ore, PD is likely to win the incoming election as it has more preferences than Monti (36 percent of preferences to 23.3), Berlusconi (21.8) and comedian Beppe Grillo's Five Stars Movement (13.8).
If the numbers are to be confirmed at the ballots, Bersani will have a solid majority at the Lower House but a shaking one at the Senate. Thus an alliance with Monti would be helpful.
In recent months Bersani has always left the door open to such a coalition, loyally supporting Monti's first government and going as far as to declare that the PD agenda was "that of Monti, plus something".
However Monti's new centrist formation is apparently forcing Bersani to rethink the project.
"My relationship with Monti is optimal but he has decided to become a political actor and I have to put political questions," Bersani told journalists. "Does he want to stay in the same European party as Berlusconi or where else? He thinks that the bipolar system doesn't work so what he wants to do? Break it down? If not, where he stands?"
Monti refused to reply but a member of his staff released a declaration which reiterates his desire for independence. "We have our own agenda and we don't need to place ourselves in relation to the PD. Our political program is clear and that is all that counts."