Italy seems to be heading towards a second coalition government of technocrats but the identity of the future PM is still uncertain.
President Giorgio Napolitano has been sounding out political leaders in an effort to find a way out of the deadlock that has strangled the country since February's elections.
"I have to tidy up my notes and clear my mind," Napolitano said after the talks. "Tomorrow [Friday] I'll disclose my decision."
The general election failed to give any party a parliamentary majority and after almost a month of negotiations political formations remain far apart.
Pier Luigi Bersani's Democratic Party (PD) holds a majority in the lower chamber but is 35 seats short of a majority in the upper house and has repeated appeals to the Five Stars Movement (M5S) party to join a governing coalition.
But M5S leader, former comedian Beppe Grillo, has declined all offers and maintained that his party would not support any government but his own.
Grillo made clear to Napolitano his intention of running the country at a meeting in the Quirinal Palace in Rome. The president then met Silvio Berlusconi and Bersani.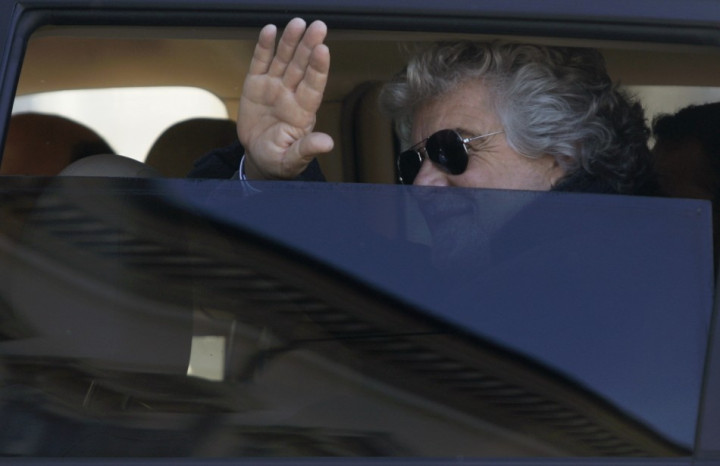 Berlusconi told Napolitano he would be available to form a government coalition with the PD.
"There are three equal political forces but one (M5S) is not willing to cooperate with the others," Berlusconi said.
M5S won about 25 percent of the popular vote against PD's 29 percent and Berlusconi's People of Freedom (PDL) party's 29 percent.
"Since PD and PDL are left alone, we have the responsibility to give the country a government," Berlusconi said.
But a PD-PDL coalition has been snubbed by Bersani on the grounds that it would be political harakiri.
An alliance with Berlusconi, who is engulfed in a number of legal scandals, would play into the hands of Grillo as he has built his platform on public anger at the old ruling class the two parties represent.
Bersani has tried to lure some M5S MPs into supporting a PD-led government, however.
The tactic notched up its first results last week when PD was able to elect one of its members as president of the Senate thanks to a dozen M5S votes.
The Democratic Party scratched the candidacy of Angela Finocchiaro, a longstanding politician who had been widely tipped for the role even before the elections, in favour of former anti-mafia chief prosecutor Pietro Grasso.
Grasso, a freshman in parliament, has a clean reputation and is liked by M5S's anti-corruption MPs. He has been tipped for PM and has said he is interested.
To prove his credentials, as first act as president of the Senate he halved his own wage and gave up many of his benefit entitlements including the bodyguards he was assigned when fighting the mafia.
But Grillo slammed Grasso's candidacy as a "figleaf" for the PD and a "trap" for his politically inexperienced MPs.
Napolitano may opt instead for law professor and former MEP Stefano Rodotà.
Napolitano might get round parliamentary rules that prescribe that a prime minister must be a serving MP by naming Rodotà life-senator.
Whoever the PM will be, he and his government have to win a vote of confidence in both houses to be confirmed.
If a candidate is not agreed by a majority of MPs, a new election - perhaps as early as summer - might be the result.