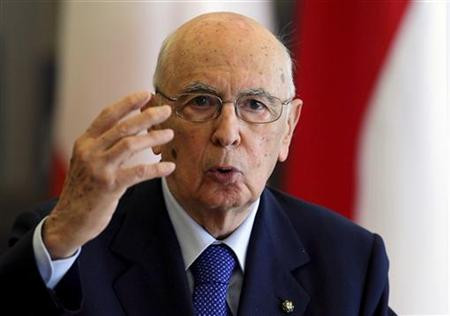 Italian President Giorgio Napolitano said on Wednesday afternoon that Italy will soon approve a financial stability law and a new government will be formed soon, in a dramatic attempt to calm bond markets.
While the yield on 10-year government bonds has dangerously hit 7.5 per cent, Napolitano is trying to reassure the markets saying that Italy must regain credibility and leaving the door open to emergency measures.
In the meanwhile, two different factions within the ruling coalition have opposed Prime Minister Silvio Berlusconi's call on Wednesday morning for fresh elections. MPs Gianfranco Micciche and Claudio Scajola have claimed that "going to the vote now would mean making the country more unstable and less credible."
President Napolitano released a statement on Wednesday afternoon saying that "there is no uncertainty over Prime Minister Silvio Berlusconi's resignation" once the budget law is approved and that "the new financial stability law will pass in a few days." After that, the president will begin consultations with the political groups on the way forward. If he does not manage to build a new government, new elections will be called.
On Wednesday, Italian bonds fell, driving two, five, 10 and 30-year yields to euro-era records. Five-year debt rose above 7.5 per cent as Berlusconi's pledge to step down left Italy in a political limbo. German 10-year bunds outperformed all their regional peers as the drop in Italian bonds fuelled demand for the safest fixed-income assets.
According to Bloomberg, the interest rates on Italy's five-year notes jumped 82 basis points, or 0.82 percentage point, to 7.70 percent at 11:56 a.m. London time. The 4.75 percent securities due in September 2016 dropped 2.995, or 29.95 euros per 1,000-euro ($1,363) face amount, to 88.81.
The 7 per cent is the threshold after which Ireland, Portugal and Greece had to be bailed out. "There is a high probability that Italy would need emergency laws," said Robert Peston, BBC Business Editor. "If Italy had to pay an average interest rate of 7 per cent on the whole of its debt - which would only happen over years, since it borrows at fixed rates for fixed periods - that would add a crippling 70bn euros to its annual interest bill."
Angela Merkel told on Wednesday morning that Italy's troubles underline the need for changes to the EU treaty.
Berlusconi and his party called for fresh elections to be held in February at the earliest. He also is pushing Angelino Alfano, secretary-general of his People of Freedom party (PDL) and former justice minister, as his successor. A Sicilian lawyer and out-and-out Berlusconi loyalist, 41-year-old Alfano has been seen as Berlusconi's heir apparent since he became the youngest justice minister in Italy's history in 2008. He cheerfully engaged in the day-to-day battle against the judiciary and magistrates to shelter Berlusconi from his many trials.
However, according to the Italian Constitution, it is Napolitano's duty to decide whether to call new elections or to appoint a new leader to try to build another majority in parliament. The opposition Democratic Party insisted that only a transitional government including members of all parties could push forward reforms needed to stabilize the economy.