Italy is expected to vote against sweeping changes to its constitution in a referendum that could have far-reaching repercussions. Italians have until 11pm local time (10pm BST) on Sunday (4 December) to have their say on changes to its political system.
Prime Minister Matteo Renzi wants to reduce the number of senators in the country's upper house in a move that would grant him more power to push through legislation to rescue the country's ailing banks.
The premier said he would resign if he lost the vote, which could spark political turmoil and early elections to open the door for Beppe Grillo's populist M5S party.
The political uncertainty would also hamper Italy's heavily indebted banks, which could be plunged into further pain, and tank Europe's third largest economy.
Last month polls gave the 'No' vote a projected 53.5% lead to 46.5% for 'Yes'. But with huge numbers of the population still undecided, the margin was not thought to represent the final outcome.
Speaking to IBTimes UK, president of the Eurispes Research Institute, Gian Maria Fara, said Renzi a 'No' vote would not necessarily mean the end for Renzi.
"If the 'Yes' votes wins, it's a triumph for him. If the 'No' vote wins, he will use the voting percentage he gathered as a way to show the amount of support he can win on his own."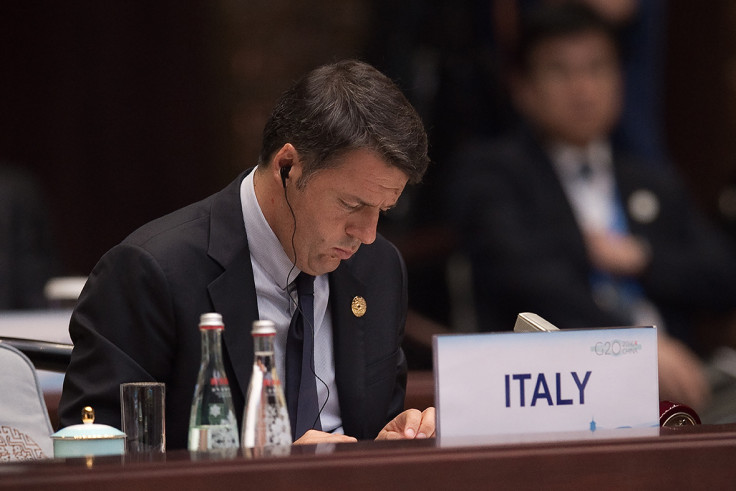 Back in January, when polls predicted a comfortable 'Yes' victory, a confident Renzi said he would resign if he lost the referendum. Since then he has come under attack from numerous fronts: from the Five Star Movement (M5S), Italy's biggest opposition party, the Northern League's far-right leader Matteo Salvini, Silvio Berlusconi's centre-right Forza Italia, and even his own Democratic Party (PD).
"Renzi is on his own," Vincenzo Emanuele, researcher at the centre for electoral studies CISE, told IBTimes UK. "The objective of the minority of the PD is to overthrow Renzi from the leadership as to retake control of the party at the next congress in 2017. There is an attempt to sabotage him that has a political reason, not one related to the reform."
Carlo Alberto De Casa, chief analyst at ActivTrades and technical analyst for Italian newspaper La Stampa, said investors in the UK should expect "tremors".
"The markets have already been rocked by two historic and unanticipated votes this year," he said. "Two countries [Britain and the US] widely considered to have effective political systems characterised by stable, steady governance have produced votes that have truly astonished spectators across the world. Uncertainty alone can affect global markets and should there be a significant shake up in Italy, the UK should be braced for the tremors."