Italy's referendum shows people are fed up of being lied to by Europhile leaders
If voters are offered a choice between corporatist technocrats and angry populists, they pick the populists.
Mainstream politicians are being tossed out all over Europe. A connection to the old order is an almost unbearable burden to carry into any campaign. Established parties, especially those of the moderate Centre-Left, are tumbling. The latest domino to topple is Italy, whose tubby but telegenic prime minister, Matteo Renzi, has just resigned after losing a referendum on constitutional reform.
Some commentators are claiming the Austrian presidential election, also held on Sunday, as a counter-example. That poll, a rerun from May, when irregularities in the ballot were discovered, saw the far-Right candidate, Norbert Hofer, fall back from 50.0% to 46.7% of the vote. In fact, though, extremist candidates won 100% of the votes. The two finalists came from the uttermost ends of the political spectrum: the Freedom Party and the Greens. The Red-Black duopoly that has governed the Alpine republic since 1945 – the Social Democrats and the Austrian People's Party, propping each other up like two exhausted boxers – didn't make the run-off.
In Italy, the entire Brussels establishment had been cheering for Renzi, who once declared: "For the sake of my children, I dream, live and work for the United States of Europe". Yet Italian voters, noticing that their country has, to a single approximation, failed to grow since it joined the euro in 1999, felt differently.
Some British newspapers are excitedly reporting the result as the beginning of an ITALexit – an Italian withdrawal from the euro. That's an ugly word: I'd have thought uscITA would be more apt. More to the point, though, it is unlikely to happen. Think of how many variables are involved.
First, there would have to be a new election rather than the appointment of a caretaker government. Second, that election would need to be won by Beppe Gillo's Five Star Movement. Third, Grillo's party would need to deliver on its commitment to hold a referendum on leaving the euro – something which it may already be rowing back from, according to a statement yesterday from one of its leaders, Luigi Di Maio. Fourth, the referendum would need to get through both chambers of parliament. Fifth, Italians would then need to vote to leave – something that the opinion polls show them to be disinclined to do. That's a lot of imponderables.
The real lesson of Italy's referendum – and of almost every recent electoral contest – is that people are in an almighty strop with their rulers. If voters are offered a choice between corporatist technocrats and angry populists, they pick the populists.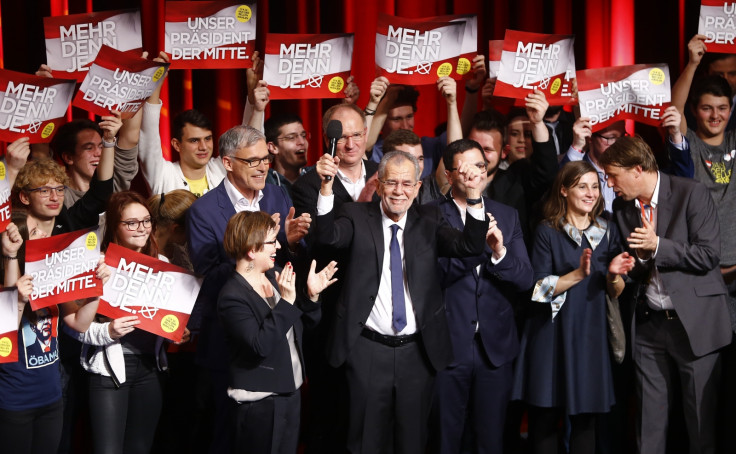 Greens-backed Austrian presidential candidate Alexander Van der Bellen, who emerged victorious beating far-right candidate Norbert Hofer, reacts at an election party in Vienna, Austria on 4 December
Reuters
Renzi should have understood this better than most. His appeal had been precisely that of the insurgent, displacing the established Centre-Left with something new. But, once in office, he found that he had to follow the same Brussels-mandated policies as everyone else. Nothing changed.
The Italians even have a word for the phenomenon: "trasformismo". It dates from the years after unification, when parties of the radical Left would find ways to form Centrist coalitions and ditch the promises on which they had been elected. In consequence, a gap opened between the "paese legale" (the politicians, officials and corporate leaders) and the "paese reale" (everyone else).
What a neat way to describe what is happening across Europe today. Ever since the 2008 crash, there has been a rift between government and governed, between the "continente legale" and the "continente reale". Voters saw hundreds of billions of pounds taken from them through taxation in order to rescue some very wealthy bankers and bondholders from the consequences of their own errors. To this day, no one has been able to tell them what happened to the money or where it is.
People feel let down and lied to. They were told by all the experts that joining the euro would make them better off. Instead, they have seen the rest of the world surge ahead while the eurozone stagnates. They were told that the Schengen deal on open borders would bring new opportunities. Instead, they have seen it buckle under the weight of the migration crisis. And yet the politicians who backed those policies, far from apologising, now say that they want even deeper European integration. This won't end well.
---
Daniel Hannan has been Conservative MEP for the South East of England since 1999, and is Secretary-General of the Alliance of European Conservatives and Reformists
---
© Copyright IBTimes 2023. All rights reserved.