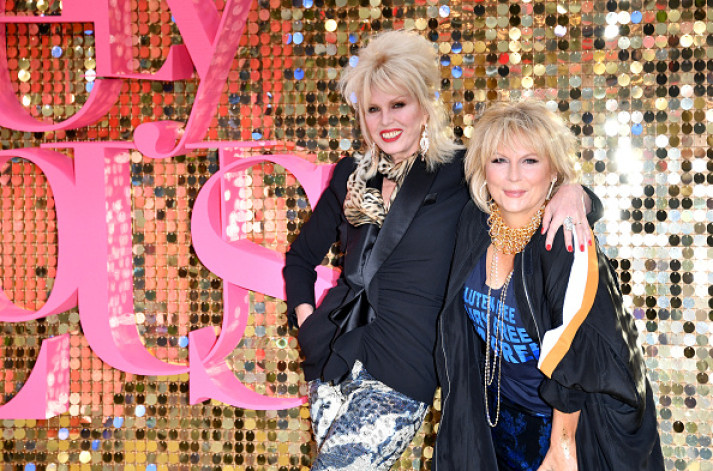 Absolutely Fabulous is back darlings, and this time it's on the big screen. A host of celebrities channeled their inner Edina and Patsy for the World Premiere of Absolutely Fabulous: The Movie in London's Leicester Square on Wednesday (29 June) night.
Jennifer Saunders and Joanna Lumley, who play madcap best friends Eddy and Patsy in the much-loved TV series, take their adventures to the big screen in the long-awaited movie as the pair find themselves on the run on the glamourous French Riveria.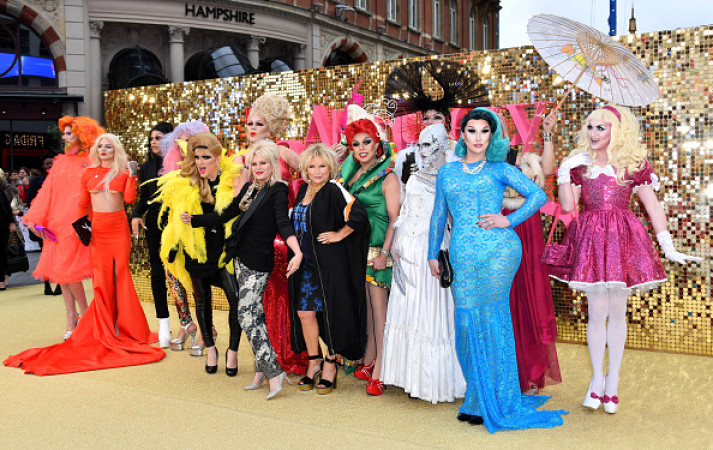 Set in the worlds of fashion, PR and TV, the film boasts an array of cameos from A list stars including model Kate Moss, US actress Rebel Wilson, singer Lulu, designer Jean Paul Gaultier, model Cara Delevingne and Spice Girl Emma Bunton.
And there was no shortage of celebrities ready to strut their stuff on the suitably glamourous gold carpet for the screening, and of course they all looked fabulous sweety.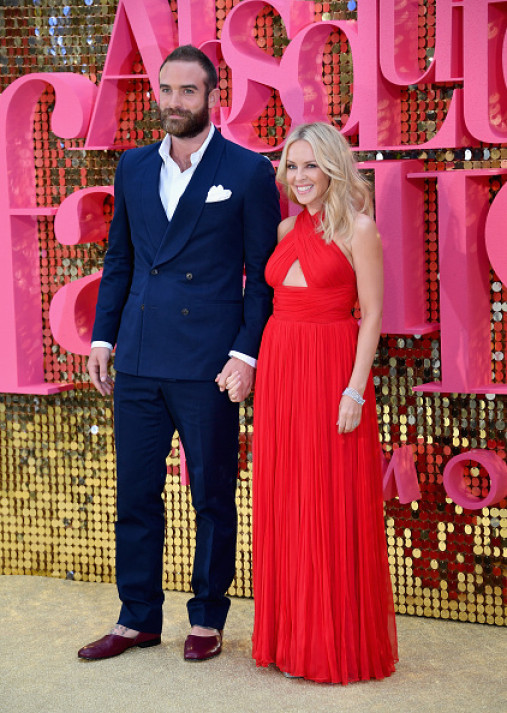 Flanked by a group of drag queens, Saunders, who wrote the script, and Lumley took centre stage at the photo call.
Leading the fashion brigade was supermodel Moss, who was accompanied by British fashion designer Stella McCartney. Moss, who makes her movie debut, is at the centre of the mayhem after she gets killed off by Eddy and Patsy. The model was seen shooting a sequence in London in which she was seen wading through the Thames in a sequinned gown while swilling champagne.
Kylie Minogue, who recorded the title track Wheels on Fire, for the film, arrived hand-in-hand with fiancée Joshua Sasse. The pop princess took centre stage in a floor length, hot red halterneck gown.
Supermodel Jourdan Dunn, who plays herself in the film, rocked a thigh-skimming gold mini dress while Britain's Next Top Model host Abby Clancy made a fashion statement in a leather mini dress with a painted-on zip and belt design reading 'girl on a motorcycle.'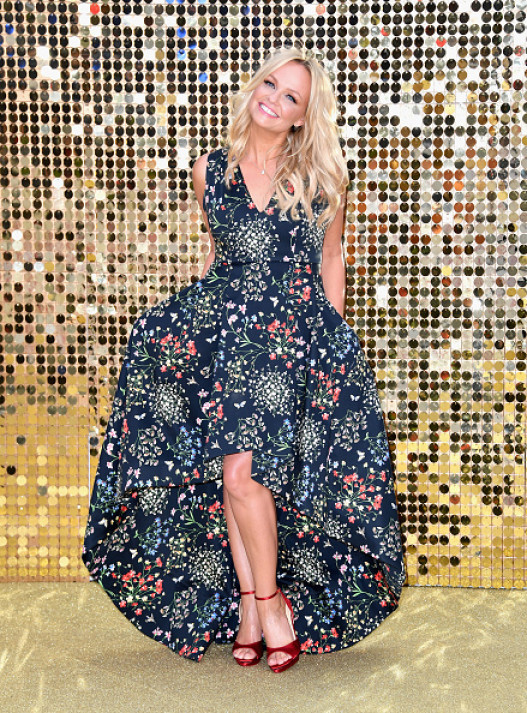 Spice Girl Emma Bunton, who has previously appeared as herself in the TV series, made a welcome return in support of her Ab Fab friends.
Saunders and Lumley's Ab Fab co-stars, Julia Sawalha, Jane Horrocks, Celia Imrie, and June Whitfield, pulled out the stops for the premiere. Sawalha, who plays Eddy's long-suffering daughter Saffy, ditched the drab garb of the straight-laced character, wearing a metallic dress.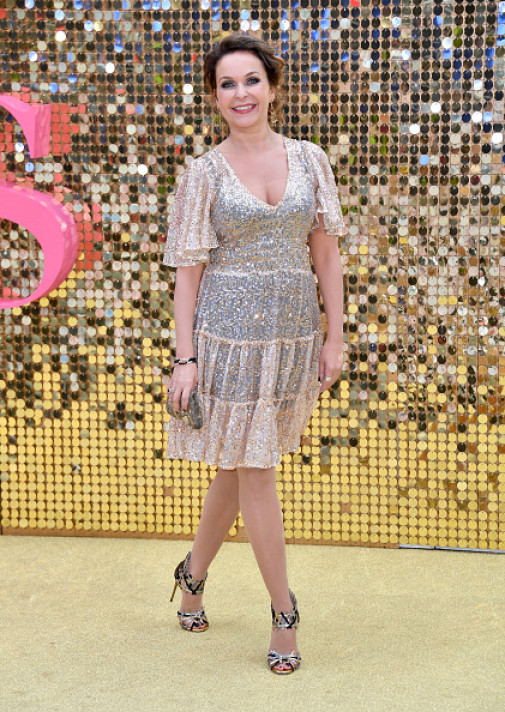 Actress Jane Horrocks who plays the dappy PR assistant Bubble, wore a pink and green co-ordinated trouser and jacket ensemble making a flamboyant entance. Celia Imrie who plays Eddy's arch rival Claudia Bing also went full on glam in a floor-length aquamarine dress and feathered jacket.
Jennifer's long-time comedy partner Dawn French entered into the spirit of Edina wearing a floral jacket and flowers in her hair.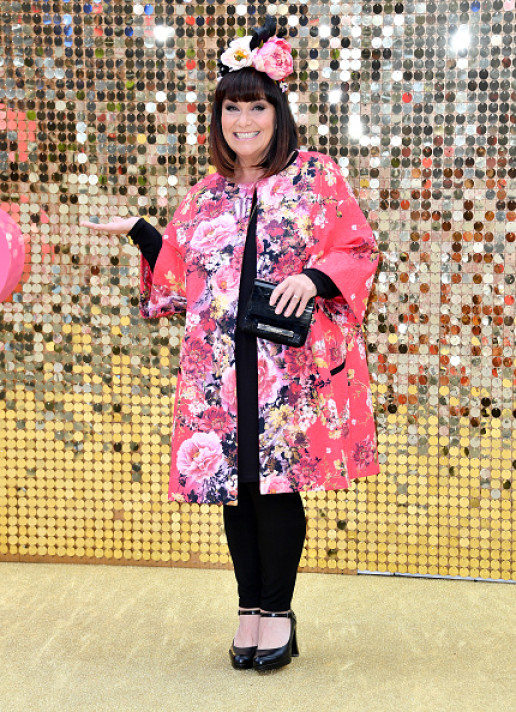 The original series ran on the BBC from 1992 - 2012 and it was last year that Saunders and Lumley decided to reprise their roles 20 years on for the big screen outing.
Joanna told Mail Online the film reunites the old cast in a surprising story. "All the old cast are in it, there are plenty of surprises. It's a fantastic story. It's very funny. It's divine, glamorous, ridiculous and fabulous." The veteran actress reportedly told Saunders they had to 'do it before we die'.
Absolutely Fabulous: The Movie is due for release in UK cinemas on 1 July and US cinemas on 22 July. Watch the trailer below: