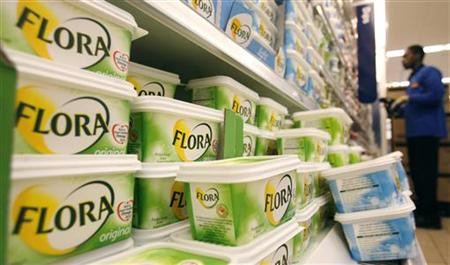 J Sainsbury are on 'reduce' at Nomura after the retailer forecast slowing like-for-like sales.
The No 3 Grocer, who has gained on Tesco's recently, topped forecasts with a £610 million profit in its full year results but warned of tough growth conditions for 2010. The key debate for the Japanese investment bank is whether the investment in space last year will actually produce growth in the current conditions of economic decline, and what they term 'absense of inflation'.
"Accelerating capex and space growth...helps drive earnings, but whether returns can be sustained remains a concern." said Nomura.
"Cost and margin management may offset much of the impact of slower LFL but is a necessity given the accelerating industry space growth environment in an absense of inflation."
"Guidance for 2010/11 space contribution and cost inflation supports small forecast upgrade...We retain our Reduce rating" said the investment bank, which predicts PBT of £655m on a price target 287p.
Richard Hunter, Head of UK Equities at Hargreaves Lansdown Stockbrokers, offered this comment:
"These numbers may bring some brief relief to what has been an underperforming investment.
"The profit numbers year on year are impressive and top analysts' expectations, which has boosted the share price in early trade. Market share has increased, partially due to a larger convenience store presence, a strong TV advertising campaign and a continual focus on value products for cost conscious consumers. However, the UK version of an austerity package will soon emerge and there may be more economic ranges at other stores. Furthermore, the pension deficit which Sainsbury carries is an ongoing burden and the Qatari stake continues to be a technical drag on the shares.
"The company's outlook was understandably cautious although hopeful of further progress. Over the last year the shares have actually declined 4%, during which period the wider FTSE100 has added 25%. There may be some positive upgrades resulting from the numbers, but for the moment the shares remain a weak hold in market consensus terms."
Shares in J Sainsbury's remained up on the FTSE 250 roughly one percent since the announcement was made.