Jack Wilshere Accepts Criticism of His Performances and Reveals Support From Cesc Fabregas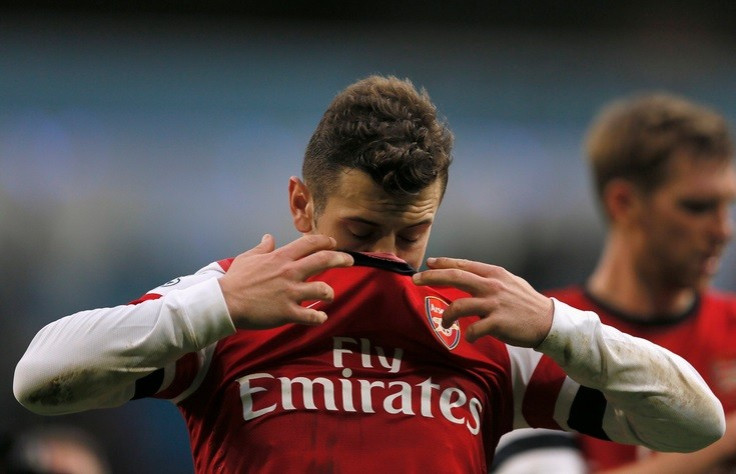 Arsenal midfielder Jack Wilshere has said he accepts the criticism about his inconsistent performances and has revealed how Cesc Fabregas helped him break into the first team.
The 22-year-old player was considered one of the most promising footballers in England when Arsenal manager Arsene Wenger handed Wilshere his debut at the age of 16 in the 2008-09 season.
But even though Wilshere has managed to settle into both the Arsenal first team and the England squad, he has been under constant scrutiny due to injuries and because he is yet to prove his world-class potential.
"We play in a world where it is the highest level. Social media, the press and everyone watches your game. I'm sure if you ask any young player, they wouldn't change it," Wilshere said to Arsenal official website.
"That's the way we want it to be. It's something you have to deal with. You've seen players in the past, like Theo [Walcott], who have just got on with it. He's never let it get to his head. He's just himself and that's what I think you have to do. You have to keep your head down and focus.
"The game is getting faster and faster, so if anything it's getting tougher and tougher. The young players have to come in and train every day. After that, they will go to school and then back to digs. Some of them are away from their families, which is quite tough."
Wilshere believes young players need to get used to dealing with the pressure but should also find support from their managers and teammates.
He thanked ex-Arsenal club captain and current Chelsea star Cesc Fabregas for his help during his breakthrough season, and praised manager Wenger for his work with the club's youngsters.
"I think the main thing is that you have to remember that you're never going to do anything on your own. You always need your teammates with you," Wilshere said.
"I remember when I broke into the team, we had a great side. Fabregas was the captain and he was fantastic. He'd been in that position. He'd come in as a 16-year-old and played. That season that I broke in [to the team], they were fantastic to me.
"Whenever I went in for a tackle and there was a little bust up, they were always around me, sticking up for me. Off the pitch, they were always giving me advice too. I think the main thing off the pitch is having a good bunch of teammates and really working with them.
"The boss was clever - he put me in for some games but left me out and made me miss some games. He put me in for the Carling Cup and I remember thinking 'this is the real thing'. I was playing in front of 60,000 fans against proper teams, proper men. I was only 16 and all I wanted to do was play,
"I owe a lot to the boss and I've learned so much since I was 18 that it's scary. I'm only 22 now but it feels like I've been playing for years."
© Copyright IBTimes 2023. All rights reserved.