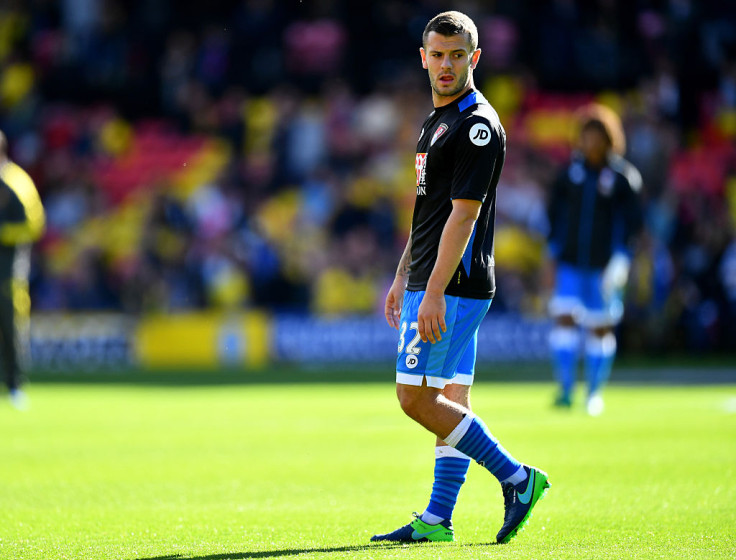 Eddie Howe has hinted that Jack Wilshere could play his first full 90 minutes for Bournemouth when they take on Tottenham Hotspur at Dean Court on Saturday (22 October). The midfielder, who joined the Cherries on a season-long loan from Arsenal this summer, has yet to play a full game as he continues to build fitness after spending a major part of last season out injured.
Wilshere has missed big chunks in terms of game time in recent seasons due to injury and had fallen down the pecking order at the north London club. Arsene Wenger was keen for the England international to play regular football and sanctioned a temporary move for the midfielder.
The 25-year-old has made it clear that being fit and playing regularly are his main goals during the loan spell, and he has achieved both thus far. Wilshere is going to get a lot of attention from the away fans when Spurs visit owing to him being an Arsenal player, and Howe has hinted that he could be involved from start to finish, which will be his first since playing the full 90 minutes against Manchester City in September 2014.
"His fitness is improving every week. The quality is there – making sure he can perform to his best levels physically is what we are trying to help him with. Games are what he needs," Howe said, as quoted by the Daily Mail.
The Bournemouth boss also praised Tottenham and Mauricio Pochettino ahead of their clash on Saturday, and Howe believes that the north London club will put up a more sustained title challenge this time around. Spurs were the closest challengers to Leicester City last season, but their challenge capitulated after they lost their last five matches of the season, which saw them finish in third place.
"Yes, I think so (Spurs can be genuine title contenders). It is a really competitive league, as everyone knows, with the teams we have at the top of the league. It's going to be a really interesting mix to see what happens," the Englishman said during his pre-match briefing.
"They (Spurs) have got an outstanding manager, I think he is up there with the very best.
"The way that his teams play, they don't change. The intensity they play at is very hard to play against. When you add that to a very talented squad, I think they have a real good chance (of the title)," he added.