Seldom will two of the world games' most important figures make such a tragic miscalculation. Brazil superstar Neymar, regarded among the planet's finest players alongside Lionel Messi and Cristiano Ronaldo, claimed prior to the game at Wembley which celebrated The Football Association's 150<sup>th anniversary that England were merely a one-an team led by Wayne Rooney.
Despite Rooney having flattered to deceive in previous major tournaments, the Manchester United forward arguably remains England's stand-out player in the modern era, having netted 33 international goals. Through gritted teeth, even the most ardent Three Lions supporter could concede his importance.
Manager Roy Hodgson made contrasting comments in the lead up to the game, the biggest test in his short tenure, saying that little should be expected of midfielder Jack Wilshere, amid his full return to the international setup, following a brief cameo against Sweden last year.
And in both emphatic and thrilling fashion, Wilshere produced a showing in keeping with the rapid trajectory of his career, yet one that should be heralded among the greatest individual England performances in modern times.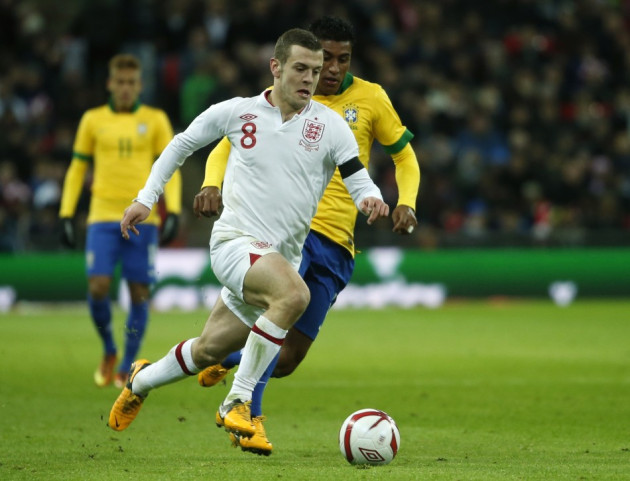 Against a Brazil side far from the peak of their powers but still possessing a raft of giants of the game, not least Ronaldinho, who saw his early penalty saved by Joe Hart, a moment in keeping with England's quick start on Wednesday night, Wilshere adopted the role as the kingpin of the midfield; his passing metronomic, his movement electric.
Integral to a passing philosophy which ultimately beat the Brazilians at their own game, Wilshere proved influential in securing England's lead, exchanging passes as he so often did with Rooney before darting in behind Ramires, who toiled against his London rival, and feeding Theo Walcott.
Rooney arrived in the nick of time to slide home after Walcott's shot was saved by the inspired Julio Cesar.
Such was the blizzard of awards, shirts, caps and all awarded before kick-off, to Ronaldinho and England captain Steven Gerrard, that Luiz Felipe Scolari could be forgiven for thinking one his players had mistakenly slipped into an England shirt in the intermitting period. Having already produced a performance worthy of Barcelona for Arsenal, Wilshere was showing he belonged among international football's elite also.
In the little Arsenal mastermind, England have a player emphatically in the world-class bracket.
England's insistence on passing the ball out of defence, which worked to further emphasise the tandem in which Gerrard, Wilshere and Tom Cleverley worked in midfield, meant mistakes were bound to arise.
Neymar should have taken advantage in the first half, but blazed over, but after Gary Cahill overran the ball after the break, substitute Fred feinted right, and smashed past Joe Hart with his left.
In truth, the Fluminense forward should have made it two after more haphazard England defending, but clipped the bar.
Wilshere and Rooney had already combined prior to the leveller to set up Gerrard, whose stinging shot tested Cesar once again, but it was left to substitute Frank Lampard to show that killer instinct, finishing a move that said everything about England's new guise under Roy Hodgson.
After Wilshere, by this stage exposing swathes of room in behind the curious holding pair of Arouca and Paulinho, fed Walcott. Dante's interception only worked to swell the pressure on the Brazilians, as Wilshere hounded Ronaldinho, Rooney toe poked the ball away from Adriano and Lampard finished with aplomb.
Home wins against Spain and Brazil in the space of 16 months will likely do nothing to diminish cynicism surrounding a World Cup jaunt in South America next year, and rightly so; but dampening the admiration for Wilshere will prove a much tougher task.
If England, ranked No.6 in the FIFA world rankings, didn't prove they can live with the very best, they at least provided clear evidence they're far from the single-starred team they've been accused of being under previous regimes. We can all agree on that.