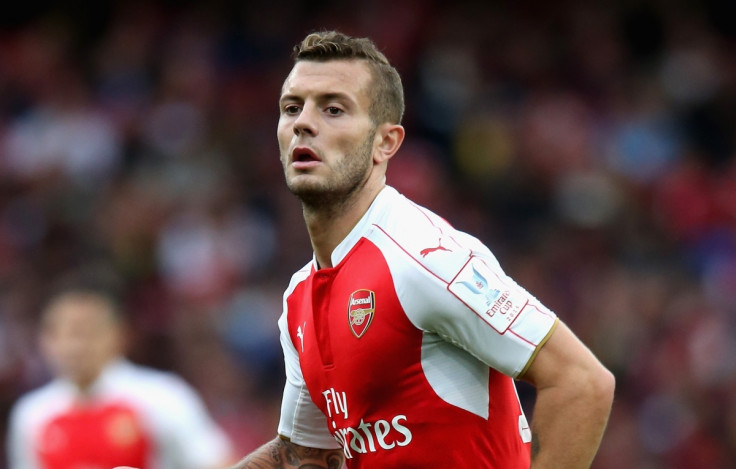 Arsenal and England midfielder Jack Wilshere has confirmed he is on course to return from injury in the New Year after missing the start of the season with a fractured leg. The 23-year-old suffered the injury in training in the week leading up to the beginning of the campaign and is not expected back until January.
Gunners fans have learned to approach previous injury forecasts regarding Wilshere with caution given the fitness history of the academy graduate, who has undergone six bouts of surgery in the last four years. The former Bolton Wanderers loanee has gone under the knife to correct knee and ankle problems during his relatively short career and has missed vast swathes of previous seasons.
Manager Arsene Wenger is confident that Wilshere will return from his latest injury before the end of the 2015-16 term, with Arsenal optimistic he could return to training before the end of the year, with a view to a first team return in January. While answering a question regarding the club's potential January transfer window plans, Wilshere confirmed his return is close.
"I don't think [the club need January signings]," he told Sky Sports. "Defensively we look good. We've got Gabriel [Paulista] who has really grown up. Last season, he was settling in. He is really suited to the Premier League. We've also got Calum Chambers, who if needed, is there. We've also got myself and Danny Welbeck who should be back round January and make the team stronger."
Though the prognosis has to be taken with a pinch of salt, the news is a big boost to both Arsenal and England ahead of the rest of the domestic season and next summer's European Championships. Wilshere's career has been dominated by lengthy spells out injured but he admits that having recovered from ankle surgery last term, his latest blow has been the hardest to take.
"I want to play every week and be fit for every game possible but if I don't play the way I play then I'm not going to be the same player," the Arsenal midfielder added. "Maybe in training you can be not as mad and not go in for stupid tackles but when it comes to a game, when I cross that line I want to win.
"I do find it hard not to go in 100%, the manager always says you have to train how you play but maybe in training I do have to calm down a little bit.
"I think this one was mentally the toughest to take. Last season I started well, got injured and missed most of the season, came back towards the end, got back in the England team, had a good game with England and then I only took two weeks off in the summer because I wanted to go back early and get fit, which I did.
"Pre-season I didn't have any muscle injuries or anything like that, it was just a freak incident in training. It is tough but I've got good people around me, family and friends and they really help."