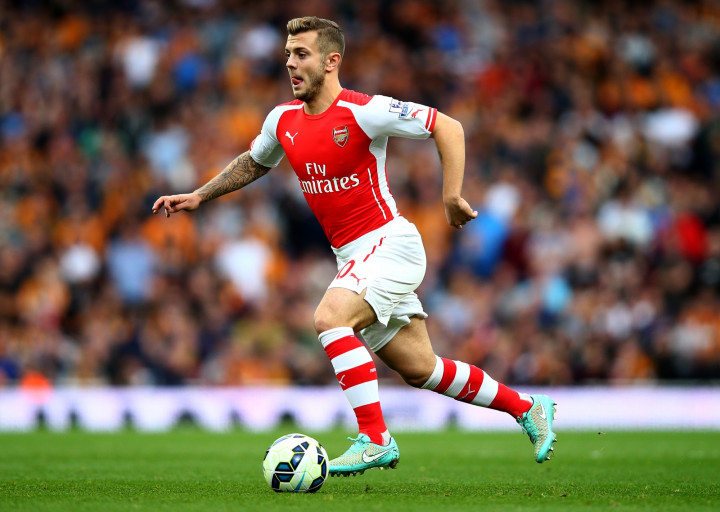 Arsenal midfielder Jack Wilshere has revealed that Arsene Wenger has shot down his request to play a deeper role for the Gunners like he has been doing for England off late.
The Three Lions midfielder has excelled in the holding midfield role for his country and has played a key role in England's unbeaten start to their Euro 2016 qualifying campaign.
However, the Arsenal star has revealed that, despite his interest to fulfill the same role for his club, the manager does not want him in a deeper role but as a more attacking midfielder.
But Wilshere has admitted that he is more than willing to play that role if given an opportunity. The holding midfield role is currently being occupied by Mikel Arteta and Mathieu Flamini and both have failed to impress this season, thus the Gunners have been linked to various other defensive midfielders across Europe.
"Yes, but the formation we play at Arsenal is a bit different. I wouldn't mind playing it at Arsenal and I've already spoken to the manager about it, and he doesn't see me playing that role just yet," Wilshere said, as quoted by the Telegraph.
"I enjoy my role for Arsenal as well because I can get a bit further forward, but I wouldn't mind to play the holding role for Arsenal. That's the manager's decision. At the moment, I think Arteta is injured and Flamini is playing that role. It's down to him. If he wants me to play there, I'll play it," the Gunners star added.
The 22-year-old midfielder, who was asked to play in this new role by manager England Roy Hodgson, has admitted that he is enjoying his new role and has impressed in his recent displays against Slovenia and Scotland.
Wilshere has been so impressive that he has picked up four Man of the Match awards on the trot, which will be a great boost to the midfielder, who came in for some harsh criticism earlier in the season.
"Yes, I'd probably say that. I'm really enjoying my new position."
"I've said before, after the first game in Switzerland, that I'd only get better and better. It was my first game ever playing in that role."
The Englishman has praised the coaches for their help and revealed that they are in contact with him even when he is away from the national team.
"The main thing is the coaches are getting their points across in terms of what they want me to do, not just over here but when we're away from here. We're working on it, because I don't play that role for my club, but I am really enjoying it," Wilshere concluded.