Jacob Rees-Mogg and Zac Goldsmith may disagree about a proposed third runway at Heathrow airport, but that has not stopped the Conservative MP joining his former colleague on the campaign trail.
Rees-Mogg told IBTimes UK he was delighted to be able to back Goldsmith for the Richmond Park and North Kingston by-election after the Tories decided not to contest the West London seat.
"Zac is independent-minded and stands up for his constituents' interest," Rees-Mogg said.
"He is a model of what an MP ought to be: he sticks to his beliefs even when it is not convenient to the hierarchy."
Goldsmith triggered the vote in October after he quit the House of Commons over the government's decision to support the proposed expansion of Heathrow.
He is seeking re-election as an independent candidate, with Rees-Mogg recently pictured handing out leaflets for Goldsmith in the constituency.
But both politicians agree about another major issue: Brexit. The pair campaigned for a Leave vote at the EU referendum.
The pro-EU Liberal Democrats are focusing heavily on the issue as part of their attempt to unseat Goldsmith after 69% of Richmond-upon-Thames residents voted Remain.
Liberal Democrat candidate Sarah Olney told IBTimes UK: "We started our campaign talking about Heathrow, but what was coming to us very clearly from the doorsteps was what people were very much more upset about was Brexit.
"That's why the election is becoming about Brexit rather than Heathrow."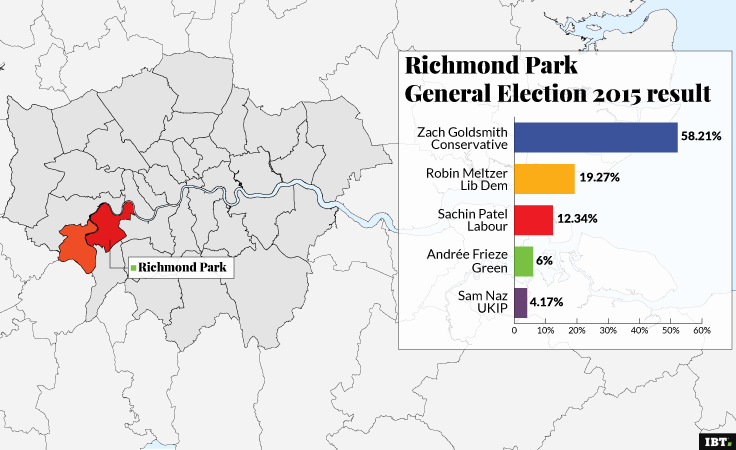 But the 39-year-old accountant faces a tough task. Goldsmith secured a majority of more than 23,000 votes at the 2015 general election.
A BMG Research poll, of more than 500 voters in Richmond Park between 26 and 27 October, found that 56% (-2) of respondents backed Goldsmith, while 29% (+10) supported Olney.
But the Liberal Democrats are hoping to top their Witney and West Oxfordshire by-election performance in October, when the party secured more than 30% of the vote and slashed the Conservative majority by 20,000.