Failure and uncertainty are two concepts which encompass every entrepreneurial journey at some stage. Every successful entrepreneur I have ever met will tell you they failed a dozen times before getting it right, they just learnt how to use the experience to their advantage.
But what businesses are asking me in the run up to the UK election is, can our economy afford the next Government to fail on its proposition for small business? Uncertainty is looming as we anticipate who the next UK Government will be and what they will do for the business community.
This is increasingly difficult to comprehend as UK voters are consistently reminded about the mistakes leading parties have made, prompting us to question competency and ask: can we really trust the parties with experience? Or do we take the risk and back one of the parties that were once on the fringe of UK politics, but who are now required to help get the keys to Number 10?
In my 30 years of business, I have never witnessed an election like this one. I don't think anybody could call it at the moment, it really is anybody's game. It's clear that the time of two or three-party politics is over, and the parties once considered outsiders – the Scottish National Party, The Green Party, Ukip and Plaid Cymru – are having their voices heard. With no confirmed allies, this election has a real chance to change the face of British politics, and with it the fate of our economy.
In our most recent leaders debate we saw Labour leader Ed Miliband outright refuse to team up with SNP's Nicola Sturgeon despite her best petition: "we have a chance to kick David Cameron out of Downing Street don't turn your back on it, people will never forgive you". It's safe to say every party is fighting dirty.
No matter who holds the key to Number 10, all the parties in the political mix know they need to back small business and win the hearts of the entrepreneurs who are crucial to realising long-term economic growth for the UK.
So, who is going to give our SME community the best chance to start, grow and prosper?
If the media is anything to go by, Labour have struggled to position themselves as the 'party for business' from the offset of their campaign, despite Miliband's attempts to rebuff claims that many of his policies are 'anti-business'. This is strongly disputed by Chuka Umunna – Shadow Business Secretary – who is very credible and certainly appears to be committed to this area.

'In Britain today, small businesses are flourishing in numbers never seen before and business starts are the highest in history. More and more people in the UK are charting their own path in the belief that self-determination is the most liberating force. We are a nation of innovators, creators and business builders and we cannot turn back the clock.'
Joanna Shields analyses the key priorities for the major parties. Read here.
Every employee of a company has an ambition to become a leader. After a lot of hard work, dedication and risk taking, the handful of those who eventually get to a position of success are often labelled in the media as 'high net worth' individuals.
Could Labour's policy plans to target this group effect their chance of gaining the 'business vote'? Combined with the fact that many businesses welcomed the moves from the Conservatives and Liberal Democrats whilst in office - Growth Vouchers, Start-Up Loans and the launch of the British Business Bank to name but a few - it is difficult for Labour to make headway and produce 'new ideas' which surpass what has already been achieved for SMEs by the Coalition Government.
Just as Labour have been portrayed as attacking business, it's only fair to say the Conservatives have been pitched in the same way towards the 'working classes'. Are they doing enough to provide comfort and confidence to hard-working people in the UK? According to the media, apparently not.
Either way, there are some things all businesses will be looking out for from the next Government:
Skills/Employment:
I've spent my career building recruitment firms and I genuinely believe that it's people who breathe life into business. The prevalent skills gap in the UK will need to be addressed by the next government and the transition from education to work significantly improved.
I was recently told 65% of current UK schoolchildren will be doing jobs that haven't even been created yet. This scares me. We need a government that is prepared for this. A government that will futureproof our economy and understands that creating well-paid, lasting jobs for young people is of the upmost importance.
There are many options on the table. Could the Tories' 3 million additional apprenticeships help prepare today's youth for the jobs of tomorrow? Could the Labour and Greens' pledges to end exploitative zero-hours contracts and raise the minimum wage make all the difference?
Providing long-term, sustainable employment is key to delivering stability in our economy so business owners should be looking to back the manifesto which is dedicated to supporting skills, driving education and making sure our national curriculum is as flexible and attractive as possible for employers and students alike.
Access to finance
More and more entrepreneurs are choosing the alternative investment route as they become disengaged with banks that aren't willing to take the risk and lend.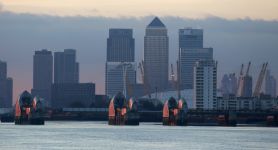 The need for start-up finance in the UK is clearly illustrated by Start-up Loans figures. The Government-run scheme has helped start over 27,000 businesses by providing capital, mentorship and guidance.
The next Government needs to ensure that this start-up capital remains available to would-be entrepreneurs. The Conservative plans to triple the number of start-up loans for businesses to 75,000 is very attractive for someone looking to start up, but what about those looking for growth capital? Where will the growth capital come from and which party is looking to accelerate growth for businesses?
Small businesses are our economy's lifeline; they create jobs faster and in larger numbers than any other kind of organisation. They're the very fabric of our communities and helping small businesses helps the UK economy and society as a whole.
Business support:
The next Government needs to create an environment in which business owners are confident enough to invest, that's the best way to boost productivity. An election itself stalls investment because the uncertainty of who our next Government will be creates 'unknowns' and more risk-averse investors will hold off until the bets are off.
Businesses want more than just tax relief incentives, they want stability. They want to know that their economy backs them and they are encouraged to scale in a business environment which is fair and constructive.

'There is every chance of a hung parliament and another round of political wrangling to form a government, just like in 2010, and all the uncertainty that comes with it. The concessions that would have to be made to minor parties, such as the Liberal Democrats and SNP, for Labour or the Conservatives to secure power make it hard to predict the direction of government policy.'
Read Shane Croucher's latest analysis here.
We'd hope to see the next government build on what's been achieved in the last five years and address issues such as business funding, creating high quality jobs and offering competitive business rates.
The biggest issue facing business owners as we approach next month's general election is uncertainty. I'm not just talking about the uncertainty of which parties may or may not make up our next government, but the long term stability of the policy plans they are putting forward. That's what really counts.
Whoever ends up in Number 10, what really matters is that once they land, they do so with a clear long term and stable plan. One that businesses can use to plan ahead and build into their budgets for the long term... or hopefully for the whole political term. The May 7 General Election presents an opportunity for government to set out its attempts to help start-ups and small firms crystallise their ambitions and I for one will be watching very closely, as an investor, an employer and as an entrepreneur.
James Caan CBE is founder and CEO of Hamilton Bradshaw, a venture capital firm based in Mayfair, and a former panellist on BBC series Dragons' Den. He supports many charities and established the James Caan Foundation to support education and entrepreneurship in the UK.
You can follow James on Twitter @jamescaan.